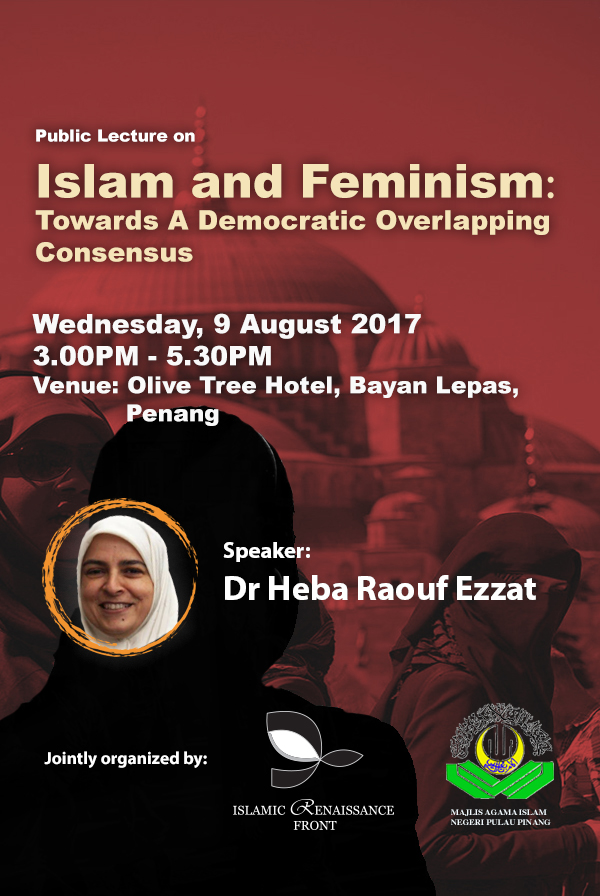 Date: 9th August 2017
Time: 3 – 530PM
Venue: Olive Tree Hotel, Bayan Lepas, Penang
Register: https://www.eventbrite.com/e/public-lecture-on-islam-and-feminism-towards-a-democratic-overlapping-consensus-tickets-36258135058
Speaker:
Dr Heba Raouf Ezzat
Jointly organized by:
Penang Islamic Council and Islamic Renaissance Front
Public debate on democracy, Islam, human rights, women's empowerment, Muslims' feminism and many other issues concerned with the social contract, and its reform is very wanting in this new era. The social contract is continually in the making in any society, as much as democracy is itself a continuous process with no clear-cut end.
Religious discourse might silence other rationales and bases of sound judgment. We have seen crimes committed in the name of protecting Islam, from killing secular intellectuals to chasing others out of the country to seek refuge abroad. We are now living in a post-secular age where combining different discourses to build a post-ideological and post-secular democratic consensus is possible and is actually the Jihad of the historical moment awaiting the Muslim mind.
Muting religious discourse has proven to be useless. After decades of secular hegemony over the political sphere and the manipulation of the cultural scene by ideologues from nationalistic background, religion came back strikingly and even to the surprise of sociologists who anticipated its decline.  Bringing religion back in is not necessarily harnessing the power of the divine against the power of the people. Women managed to seek empowerment via the religious discourse and reclaiming their share and right to spaces of religion in mosque and society.  While religion can be used, and abused, to dominate the debate and exclude voices of reason and any attempts of religious and social reform; it can also be a theology of liberation. The question is not anymore if this is at all possible, but how it can be done.
The challenge now is not only the hegemony of Islamic unitary visions on the public sphere, but the hegemony of the state. We must reflect on the need to develop our own formula of separation between state and religion by allowing religion to be contained in a strong civil sphere, protected from the monopoly of the state. Once deliberative democracy is developed, reformist and progressive visions will become the tool of empowerment of society in its struggle against authoritarianism. It is where we place religion that shapes its direction. The threat that state speaks in the name of God is indeed the ultimate threat. We can tame radical voices if this happens in the public domain easily if we can guarantee the neutrality of the state, the rule of law, and of course the presence of democratic mechanisms of government.
Perhaps the struggle would then continue against the state that would rule in the name of God and hijack the will of the people with religious slogans. How can we promote moderate Islam and agree on the mainstream choice from the many versions and interpretations? Could fostering the democratic deliberative power of the civil sphere in day-to-day life solve this? Could strengthening civil society and all associative spaces, and by allowing all discourses to bloom in the intellectual circles help ameliorate the problem?
Such a debate is a step on that path and represents a good start. This lecture aims at dissecting this problematic issue of Islam and Feminism, of democracy and secularism.
Programs:
14.30-15.00: Registration
15.00-15.10: Opening speech by Chairperson, Elma Berisha
15.10-15.30: Speech by Datuk Mansor Othman, Chairman, Penang Islamic Council
15.30-16.30: Lecture on Islam and Feminism: Towards A Democratic Overlapping Consensus by Dr Heba Raouf Ezzat
16.30-17.30: Discussion
17.30  : Tea
Biography of Presenter:
Dr Heba Raouf Ezzat graduated from Cairo University and taught at the political science department there courses of political theory and history of political thought for almost thirty years. She also was an affiliate professor at the American University in Cairo 2006-2013 where she taught courses on political Islam, contemporary Arab thought and political thought and theory. She was a visiting researcher then a visiting fellow at many distinguished academic institutions including University of Westminster , Oxford Center for Islamic Studies, Georgetown University, University of Maastricht, and University of California - Berkeley, and London School of Economics. She published widely on classic and contemporary Islamic thought, issues of Globalization, women and Islam, and urban politics. She has also been active in the public sphere in Egypt, was a the coordinator of many youth initiatives and is a public speaker and commentator. She is also a translator and a poet. Her latest publications include two books in Arabic: Towards a New Civility and The Political Imagination of Islamists. Her translation of Ziauddin Sardar's book on Mecca into Arabic is due to appear in bookstores September 2017.
---