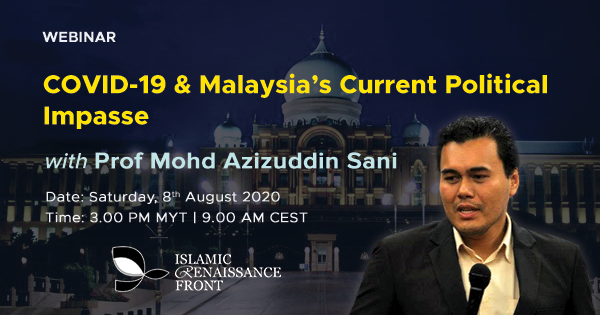 Date: Saturday, 8th August 2020
Time: 3PM MYT | 9AM CEST
Register at: https://www.eventbrite.com/e/webinar-covid-19-malaysias-current-political-impasse-tickets-115874123623
*The Zoom link for the Webinar will be sent to your email on Saturday, 8th August at 10AM.
Nothing has been more electrifying than the historic turning point during a general election that overturned a party which had been in power for almost 60 years in Malaysia. But sadly in less than two years later, the new government is out, and the old ruling party back in power. So why did a coalition whose victory had ignited such hopes for change in Malaysia collapse so quickly?
It was none other than Muhyiddin Yassin, who was ejected from the then-government party Umno in 2016, had somehow joined forces with some disgruntled politicians that brought down the Pakatan Harapan (PH) government by defecting with more than 30 MPs, and forming an alliance with his old party – that have been a shattering blow to those who saw the 2018 election as a new beginning for the country.
Whether Muhyiddin's new Perikatan Nasional (PN) government will survive the immense internal and external challenges it faces in the coming months is yet unclear. Regardless of how the near-term plays out, however, the crisis has revealed several factors that affect Malaysian politics over the medium to long-term. First, Pakatan's electoral viability has diminished and will likely remain poor for the foreseeable future. Second, while PN may be electorally viable for the time being, it will face fundamental difficulties actually governing, as its essentially Malay-unity composition is highly vulnerable to legitimacy issues and internal strife.
There is, in short, a deep impasse in Malaysian politics in which neither side of the country's de facto two-coalition system appears viable as an effective governing entity in its current state. This suggests ongoing political instability, as well as inaction on several of Malaysia's pressing economic and social issues. We will basically discuss in this Webinar on how Malaysia arrived at this impasse, and we will also focus on the current state of the two dominant coalitions and what may lie ahead.
About the Speaker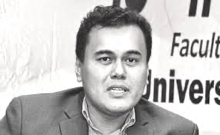 Professor Dr. Mohd Azizuddin Mohd Sani specialises in the fields of politics and international relations. He is known as an expert in political theory and philosophy, human rights, civil liberties, media politics, democratisation and Malaysian politics. He graduated with Doctor of Philosophy (PhD) in Politics and International Relations from Keele University, United Kingdom in 2007. He got his MA in Political Science and BA (Hons) in Political Science and History from Universiti Kebangsaan Malaysia. He was later promoted to Professorship attached with the School of International Studies (SOIS), College of Law, Government and International Studies (COLGIS) in 2016 at the age of 41. He has contributed his expertise as public intellectual locally and internationally and involved in public advocacy and interviewed by many media agencies on Malaysian and international affairs. His opinion was also used in the coverage of many mainstream press. In fact, he is the columnist for Berita Harian since 2012 and has published more than 150 articles. His articles were reprinted by University of Malaya Press in a book publication entitled "Dinamika Wacana Politik Malaysia dan Antarabangsa" (2017). He is also the columnist for Sin Chew Jit Poh.
In UUM, he was the Director of Research and Innovation Management Centre (RIMC) from 2017 till 2018. He was the Dean of School of International Studies (SOIS) from 2011 until 2013 and was a Senate Member. He was the Chairman for the Programme of International Affairs in College of Law, Government and International Studies (COLGIS), UUM and Chairman of National Resilience Studies at the Institute of Tun Dr Mahathir's Thoughts (IPDM), UUM. He was awarded with Fellowship Grants and appointed as Visiting Fellow in the Institute of Southeast Asian Studies (ISEAS), Singapore in 2014. He was also appointed as Visiting Professor at the National Institute of Development and Administration (NIDA), Bangkok, Thailand. He has published his articles in many journals locally and internationally where 34 of his articles were indexed by ISI, SCOPUS and ERA such as in Japanese Journal of Political Science, Journal of Contemporary Asia, Asian Journal of Political Science, Asian Politics and Policy and Asia Pacific Media Educator. He used to be invited as Advisory Editorial Board for the journal Manusia dan Masyarakat (Man and Society) from University of Malaya and Journal of International Studies from UUM. So far, he has published thirteen books and two of them were published by the ISEAS Singapore.
Program
300-315PM:    Introduction by the Moderator, Osman Softic
315-400PM:    Presentation by Prof Mohd Azizuddin Mohd Sani
400-450PM:    Discussion
450-5PM:        Concluding remarks by the Moderator, Osman Softic
Organized by: Islamic Renaissance Front
---