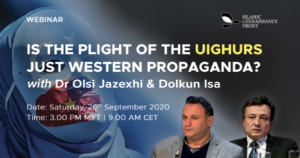 Date: Saturday, 26th September 2020
Time: 3PM MYT || 9AM CET
Organized by: Islamic Renaissance Front
Register at:https://www.eventbrite.com/e/webinar-is-the-plight-of-the-uighurs-just-western-propaganda-tickets-121332194861
*The Zoom link for the Webinar will be sent to your email on Saturday, 26th Sept. at 10AM.
Irrespective of which side we are on, one thing for certain  is that the Communist party of China is not taking the accusation of its atrocities against the Uighurs Muslim minority lightly. They have mounted a sophisticated counterattack and running public opinion abroad in order to spin to a more positive message. Their narrative is that Xinjiang in particular faces serious threat from Islamist militants and separatists. It has sought to focus its security crackdown in resource-rich Xinjiang as part of the wider global "war on terror". The argument is that, the Chinese government will not permit Xinjiang to become another Iraq, Syria, or Libya. If the unrest spreads outside the borders, it will affect the stability of Central Asia and the Middle-East, and might even spread to Europe – or so they say.
It is also interesting to note that the regime has turned to social media in shifting from denial to justifying the camps as voluntary "vocational training centres" in tandem to the increasing evidence of detention camps emerged from independent satellite images. It is not surprising then that even the former Minister of Religious Affairs of the former government of Malaysia happily sync to the same tune in praise of  such camps. They have even aimed to paint a sanitized images of the camps by holding guided tours for foreign journalists and diplomats, and disseminating videos of Uighurs denying mistreatment and denouncing the overseas relatives. But some have also argued that these disinformation campaigns were re-enacted with the same resemblance to that of the Russian model that exerted influence across the internet.
Of course these propaganda campaign intensified after the International Consortium of Investigative Journalism published a leaked information from a highly classified Chinese government documents that revealed the operation manual for the nation's extrajudicial internment and compulsory indoctrination of the Uighurs as part of the sweeping program of mass surveillance and population control. It is not surprising then if many independent observers believed that what they are seeing in East Turkestan is far more than just repression; it was seen as an intentional campaign of assimilation by Chinese government targeting the Uighur identity. The incarceration of over a million people in Xinjiang is probably the world's largest internment of an ethno-religious minority group since the Holocaust. This goes hand-in-hand with the government's measure in slashing the birth rates among Uighurs using forced contraception in what many experts call as a form of 'demographic genocide'.
These are some of the interesting issues that will be discussed with our two prominent scholars and experts on Xinjiang and Uighur history, culture and lifestyle during our Webinar. Is there really a cultural genocide taking place? Or is it a measured and essential effort to preserve stability and to combat radicalization? What can or should governments, civil societies, and individuals outside China, like us, do in order to mitigate the situation?
About the Speakers

Dr. Olsi Jazexhi is a Canadian-Albanian historian who is specialized in the history of Islam, nationalism and religious reformation in South-eastern Europe. His interest convers nationalism, radicalism, religious and ethnic identities in the Balkans. He teaches history at the University of Durres in Albania and is a freelance investigative journalist. In August 2019 he visited Xinjiang, China and reported the situation of Muslims in China's concentration camps – "Vocational Training Centers".

Dolkun Isa is an Uyghur politician and activist from the region of Xinjiang Uyghur Autonomous Region of China, also known as East Turkestan. He is the 3rd and current president of the World Uyghur Congress, in office since November 12, 2017. He previously served as General Secretary and Chairman of the Executive Committee of the congress separately, and has spoken on behalf of the rights of the largely Islamic minority Uyghurs which makes up the majority population in that region and presenting Uyghur human rights issues to the UN Human Rights Council, European Parliament, European governments and international human rights organizations.
Program
300-310PM:    Introduction by the Moderator, Osman Softic, IRF, Bosnia & Herzegovina
310-340PM:    Presentation by Dr Olsi Jazexhi, University of Durres, Albania
340-410PM:    Presentation by Dr Dolkun Isa, President, World Uighur Congress
410-455PM:    Discussion
455-5PM:        Concluding remarks by the Moderator, Osman Softic
---