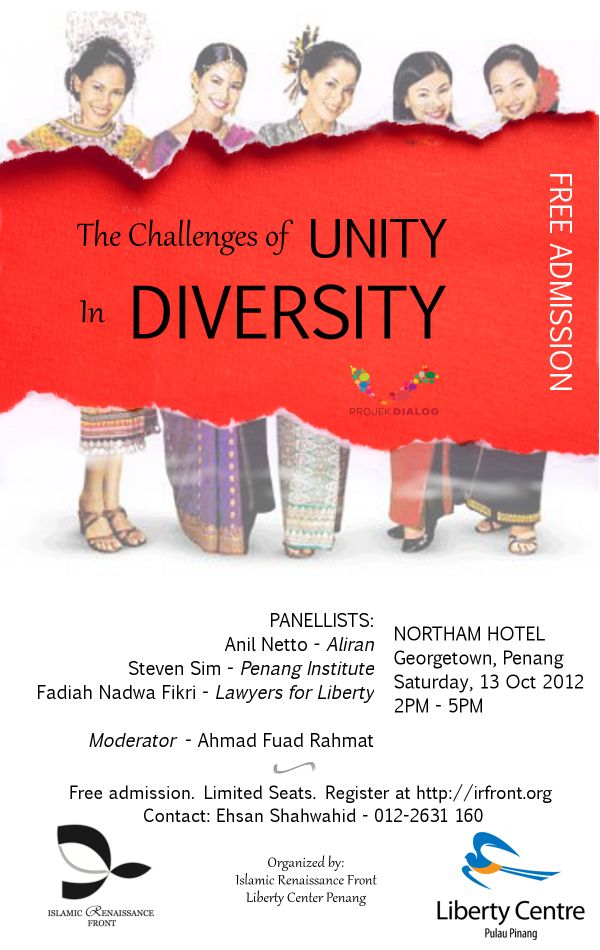 The Challenges of Unity in Diversity
Saturday 13 October 2012
Northam Hotel, Penang
The intricacy of Malaysian diversity has been a recurring issue in Malaysian politics for decades now. And while many would say that Malaysians peacefully co-exist with one another, few would argue that relations among the many different faiths, ethnicities and linguistic communities are founded on genuine solidarity and trust. Tolerance is apparent, but there appears to be little real bond, embrace or knowledge of one another's way of life, as the various communities of Malaysia have resigned to living in their own silos.
Matters are further complicated given the racial nature of Malaysian politics. Year after year we find that racial sentiments are all too easily stoked to fan mutual hostility among Malaysians. Racial differences remain the stumbling block in matters of basic civil liberties but also education policy, economic redistribution and national identity.
How do Malaysians overcome those divisions towards fostering a common vision? What are the key issues around which Malaysians of any faith or culture unite? Will political change create the inclusive Malaysia that many of us dream of? How do we unite as one while still retaining the uniqueness of the many distinct cultures that constitute Malaysia?
It is to meaningfully reflect on these questions and more that Projek Dialog and the Islamic Renaissance Front with collaboration from Liberty Center will organize The Challenges of Unity in Diversity. This public forum features Steven Sim, author and Senior Executive Officer of Penang Institute, Anil Netto of Aliran and Fadiah Nadwa Fikri of Lawyers for Liberty – all of whom collectively represent the voice of Malaysia's future. Ahmad Fuad Rahmat, research fellow for the Islamic Renaissance Front will serve as moderator.
The forum will be held at Northam Hotel, Georgetown, Penang on Saturday the 13th of October 2012, from 2.00 – 5.00 p.m. It is open to public.
http://interfaithpenang.eventbrite.com/
---