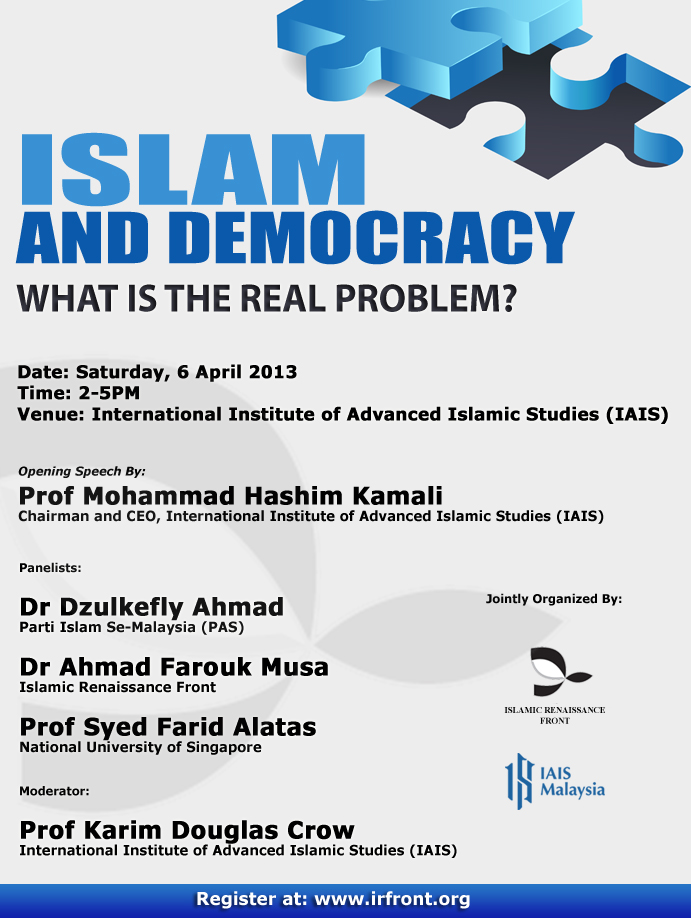 Topic    : Islam and Democracy: What is the Real Problem?
Date     : Saturday 6 April 2013
Venue  : International Institute of Advanced Islamic Studies (IAIS)
Register here: http://islamdemocracyrealproblem.eventbrite.com/
Islam is perceived as the root of the authoritarian polity in many Muslim countries in the world. Islam is seen as patriarchal and lacks any concept of citizenship and freedom since its belief in God's sovereignty that somehow diminished popular power.
Many Islamists who, in the name of their religion, suspect democracy as a "foreign construct" and suspend popular will in favor of God's sovereignty have made these views more apparent. However there exists among the Islamic activists who tend to project an inherently democratic spirit of Islam, claiming it to be a religion of tolerance, pluralism, justice, and human rights.
Methodologically, both the opponents and the proponents share in their approach an exclusive commitment to texts, drawing the philosophical arguments on the reading of the scriptures. There is rarely a discussion, moreover, on how these meanings vary in different historical junctures.
Considering that "sacred" injunctions are matters of struggle, of competing "readings", they are, in other words, matters of history. Humans define their truths. The individuals or groups that hold social power can assert and dominate those truths.
More importantly, the question is not whether Islam is or is not compatible with democracy or by extension modernity, but rather under what conditions Muslims can make them compatible. There is nothing intrinsic in Islam that makes it inherently democratic or undemocratic. We, the social agents, determine the inclusive or authoritarian thrust of religion.
And from this perspective, religion is nothing but a body of beliefs and ideas that invariably makes claims to authentic meaning, to a higher truth.
Opening speech by Prof Mohammad Hashim Kamali
Panelists:
Dr Dzulkefly Ahmad - PAS
Dr Ahmad Farouk Musa - IRF
Prof Syed Farid Alatas - NUS
Moderator
Prof Karim Douglas Crow - IAIS
Programmes
200 - 230PM: Registration
230 - 250PM: Welcoming speech by Prof Mohammad Hashim Kamali
250 - 310PM: Speech by Dr Ahmad Farouk Musa
310 - 340PM: Speech by Dr Dzulkefly Ahmad
340 - 400PM: Speech by Prof Farid Alatas
400 - 500PM: Discussion
500PM          : Tea
Jointly organized by:
Islamic Renaissance Front (IRF) and International Institute of Advanced Islamic Studies (IAIS)
Registration at: http://islamdemocracyrealproblem.eventbrite.com/
Contact person: Ehsan Shahwahid 0122631160 or email [email protected]
---