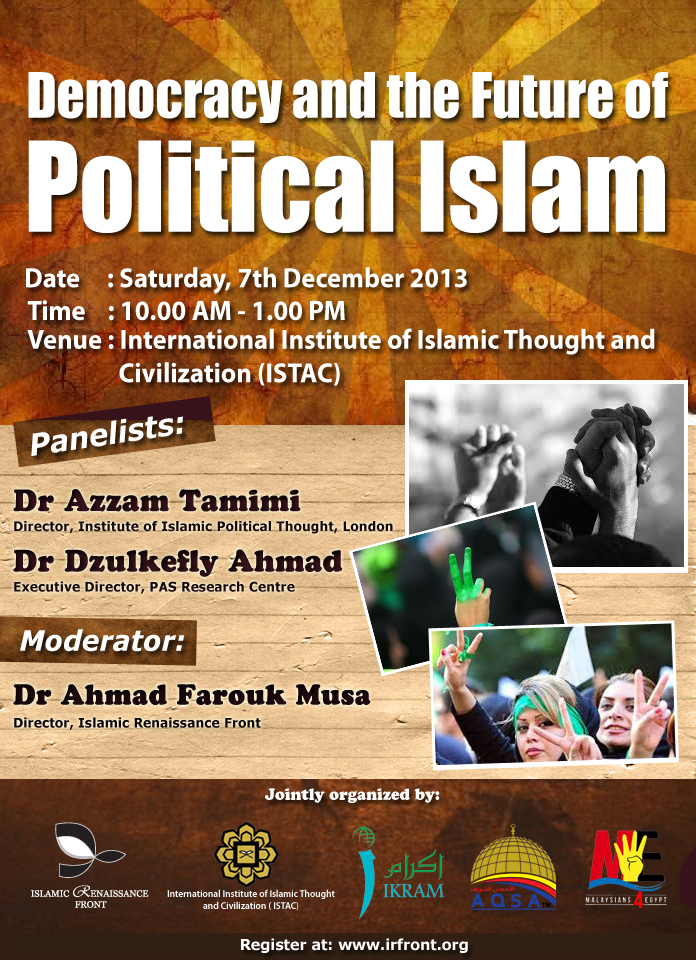 Date: Saturday 7 December 2013
Time: 10AM – 1PM
Venue: International Institute of Islamic Thought and Civilization
Registration: https://www.eventbrite.com/e/democracy-and-the-future-of-political-islam-tickets-9586165479
Ever since Francis Fukuyama predicted the clash of civilizations that would dominate global politics, political Islam has been a central point of discussion. While there were various interpretations of what Political Islam mean, the fact remains that Islam is generally seen as ad-deen wad-dawlah – religion and state. And the recent Arab Spring has brought forth the debate on whether it was a struggle to establish God's kingdom on earth or simply an Islamic awakening in favour of new political arrangements that embody both democratic pluralism and a reinvigorated sense of Islamic identity and culture.
Change in the Middle East and generally the Muslim world at large is inevitable. The only question is what kind of change: will it be slow, peaceful and progressively move toward real democracy or will it be violent and revolutionary leading toward another form of authoritarianism. Theoretically, there should not be any contradiction between a society rooted in Islamic ideals on one hand and the democratic principles of equality, liberty and pluralism on the other. It should be a force for equality, social justice, freedom of conscience and expression, and the general elevation of human condition.
However there are uncertainties among the many factions that promote Islam as a political agenda. Some see democracy itself as an affront to Islam since it supplants God's will with man's and democracy then become a means to attain political power in order to destroy democracy itself. Of note, the grounds for division between the differing factions are real and with very real consequences. And the kinds of governments that emerge from the victory of one group over the other would determine whether they will preserve a democracy that grants equal rights to minorities and women, protects free speech and political dissent and does not infringe upon fundamental liberties.
Programme
10:00–10:30AM: Registration
10:30–10:35AM: Welcoming speech by the Deputy Dean of ISTAC, Prof Abdullahi Ahsan
10:35–10:45AM: Opening speech by moderator Dr Ahmad Farouk Musa
10:45–11:15AM: Speech by Dr Dzulkefly Ahmad, Executive Director, PAS Research Centre
11:15–12:00PM: Speech by Dr Azzam Tamimi, Director, Institute of Political Thought, London
12:00–1:00PM: Discussion
1:00PM: Tea
---