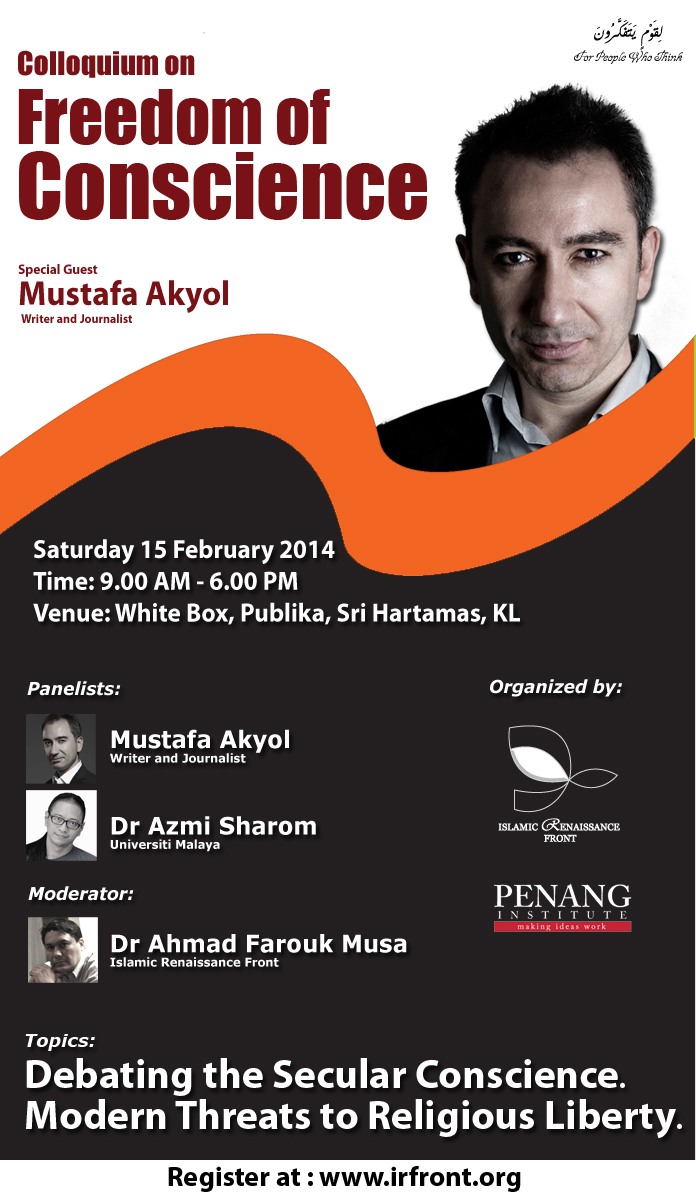 Date: Saturday, 15 February 2014
Time: 0900-1800H
Venue: White Box, Publika, Sri Hartamas, Kuala Lumpur
Registration: http://www.eventbrite.com/e/colloqium-freedom-of-expression-tickets-10251902717
One of the assumptions in the dialogue of the civilizations is accepting the variety of ideas and religions. The civilizations are based on different cultures and different cultures have been found on the basis of various schools of thought and religions. For dialogue of civilizations and cultures is perhaps not possible without freedom of religion and thought.
But the reality today is that freedom of conscience is considered as one of the most highly debatable issues in our society. One segment of the society believes that Islam ensures freedom of religion and thought. For Islam is a liberating call, a comprehensive liberating revolution to liberate the minds, to release people from fear, to release their lives from tyranny and their gains from exploitation and domination.
While another much greater segment believes that the society should be controlled from any unwanted ideas that could contaminate the minds. And that people who are exposed to the propaganda of various ideas and religions would be easily deviated from the right path and would be influenced by evil forces and subsequently lose their religion and creed. And the only way to ensure that people remain faith to their religion is to forbid any discourse on ideas and beliefs.
It is the aim of the colloquium to answer the following questions: What is meant by freedom of conscience and religion? Where does it fit in the Universal Declaration of Human Rights? What is the point of view of the popular Islamic interpretation on the subject of freedom of conscience and religion? And is freedom of conscience beneficial or is it destructive? These are some of the questions that will be discussed and dissected in this colloquium.
Programs
Saturday, 15 February
0900-0930: Registration
0930-0940: Opening speech by Chairman, Dr Fuad Nurhadi
0940-1000: Officiating speech by YB Zairil Khir Johari, CEO, Penang Institute
1000-1200: Forum 1: Debating the Secular Conscience
Panelists: Mustafa Akyol, Dr Azmi Sharom
Moderator: Dr Farouk Musa
1200-1300: Workshop 1
1300-1400: Lunch
1400-1600: Forum 2: Modern Threats to Religious Liberty
Panelists: Mustafa Akyol, Dr Azmi Sharom
Moderator: Dr Farouk Musa
1600-1700: Workshop 2
1700-1800: Resolution
1800: Tea
Jointly organized by:
Islamic Renaissance Front and Penang Institute
---