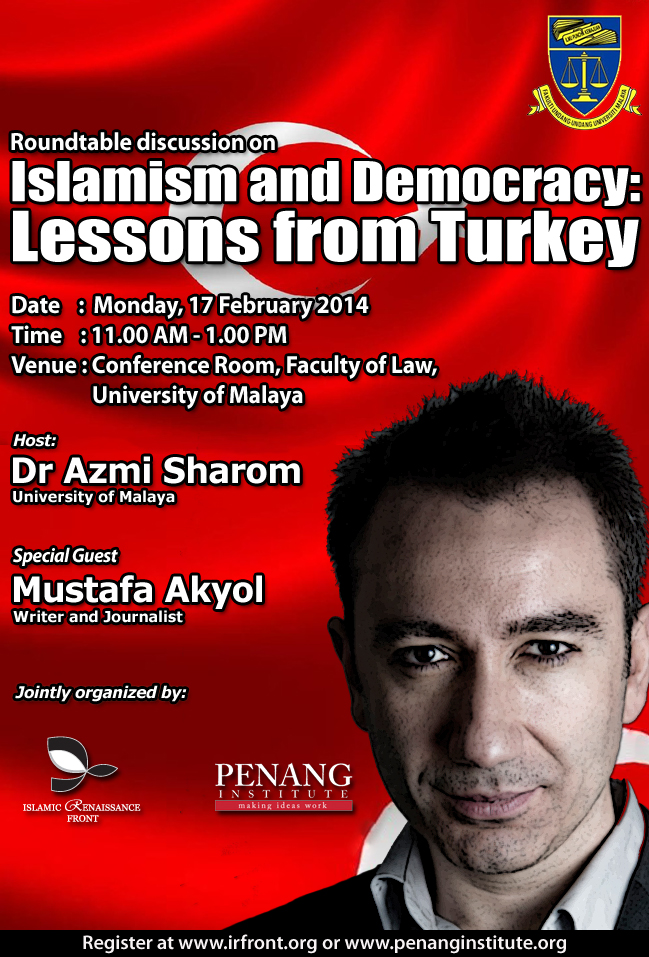 Date/Time: Monday, 17 February 2014
Venue: Conference Room, Faculty of Law, University of Malaya
Registration: http://www.eventbrite.com/myevent?eid=10355630971
"The mosques are our barracks, the domes our helmets, the minarets our bayonets and the faithful our soldiers"
[Recep Tayyip Erdogan]
Since Erdogan and his Justice and Development Party took power more than ten years ago, there have been significant transformative changes. However there are also growing concerns over the pervasiveness of political Islamists that have been construed as the immediate winner with the change in government.
While democracy is rapidly being consolidated there are reasons to believe that illiberal democracy might emerge. With the recent events of the Taksim Square, Erdogan and the Justice and Development Party have shown themselves to be effective in suppressing voices of dissent. In Turkey, opposition is now becoming dangerous.
For the Turkish case vividly illustrates the point that democracy, freedom and human rights are not one thing but three different separate entities. For the perennial question has always been regarding the Islamisation of politics versus the politicization of Islam. These are the two main questions that arise when debating the relationship between Islam and Democracy.
How are we to correlate between Islam as a religion and a worldview with democracy as a secular political system? Is it erroneous to assume that Islam is incompatible with, or even incapable of, democracy? What lessons can we learn from the experience of Turkey where Islam and democracy are interlinked by a tight nexus of relations that may be considered from two aspects: the Islamisation of politics and the politicization of Islam?
Program
1100-1110: Welcoming speech by Dr Azmi Sharom
1110-1200: Presentation by Mustafa Akyol
1200-1300: Roundtable discussion
1300: Lunch
---