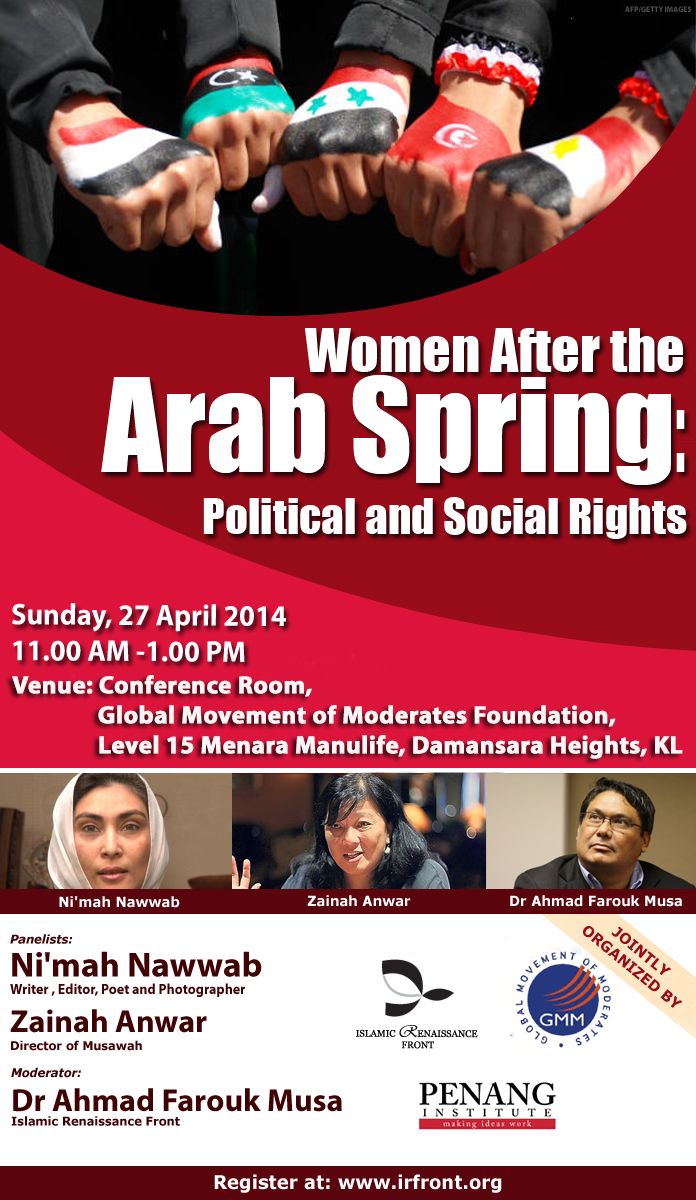 Date: Sunday, 27 April 2014,
Time: 11AM – 1PM
Venue: Conference Room, Global Movement of Moderates Foundation,
Level 15 Menara Manulife, Damansara Heights, KL
Registration: http://www.eventbrite.com/e/forum-women-after-the-arab-spring-political-and-social-rights-tickets-11292998663
The Arab Spring had seen the rise of young people who demanded a new kind of politics. And women had played their part as protestors and leaders of the uprising and were not spared the backlash – suffering arrest, sexual harassment and even death. Many women protestors were ill-treated in gender-specific ways just because they were women, defying convention and exercising their rights to freedom of expression and assembly.
In Egypt, it did not matter that women had played a critical role in the uprisings that ousted the tyrant Mubarak. It did not matter that they had suffered equally from repression and lacked of economic opportunity along with the men. When elections finally came, Amnesty International asked political parties in Egypt to make commitments to basic human rights principles including non-discrimination and gender equality.
Unfortunately the Muslim Brotherhood's Freedom and Justice Party, which won 47% of the total seats, failed even to respond to Amnesty International's request. The Salafists An-Nur Party which came second with 24% of seats, declined to promote women's rights. All in all, 71% of the then new parliament was unwilling to commit to promoting women's rights and gender equality.
In the aftermath of the Arab uprisings, the outlook for women's rights remains mixed and uncertain. The Global Gender Gap report showed Middle East countries ranked poorly as a result of low political participation for women except perhaps for Tunisia. Overall, women account for just 14% of members of Arab parliaments. And two other areas namely government policy on women's rights and level of gender-based violence, also suggest discouraging trends.
It must be acknowledged that various groups with different agendas are competing to shape the outcome of the transitions that are underway, with unpredictable consequences for women's rights. And if actors that are interested in promoting women's rights are to achieve any success in the post-uprising period, they will need to find ways of working with the various competing forces, finding common platforms and negotiating differences.
The forum will feature Ni'mah Isma'il Ibrahim Nawwab from Mecca, an English best-selling poet, writer, editor and photographer, an international lecturer and a nominated Young Global Leader. She has been dubbed as a "voice for Arab women and youths" an her engagement as a social activist, youth empowerment leader and writings span issues on diversity, spirituality, peace, dignity, youth, women, change, the environment and mutual respect for gender and race.
Another panelist is a renowned Muslim feminist and activist, Zainah Anwar; who was recently awarded the highest French honour, the Legion d'Honneur by the French government. She was also listed by San Francisco-based International Museum of Women as one of the 10 most influential Muslim women. She is currently a Director of Musawah, a global movement for equality and justice in the Muslim family.
Dr Ahmad Farouk Musa, Director of Islamic Renaissance Front will moderate the session.
Please register at http://www.eventbrite.com/e/forum-women-after-the-arab-spring-political-and-social-rights-tickets-11292998663
Programs
1030-1100H: Registration
1100-1105H: Welcoming speech by Dr Azmi Sharom
1105-1110H: Speech by moderator, Dr Ahmad Farouk Musa
1110-1140H: Speech by Ni'mah Nawwab
1140-1210H: Speech by Zainah Anwar
1210-1300H: Discussion
1300: Lunch
---