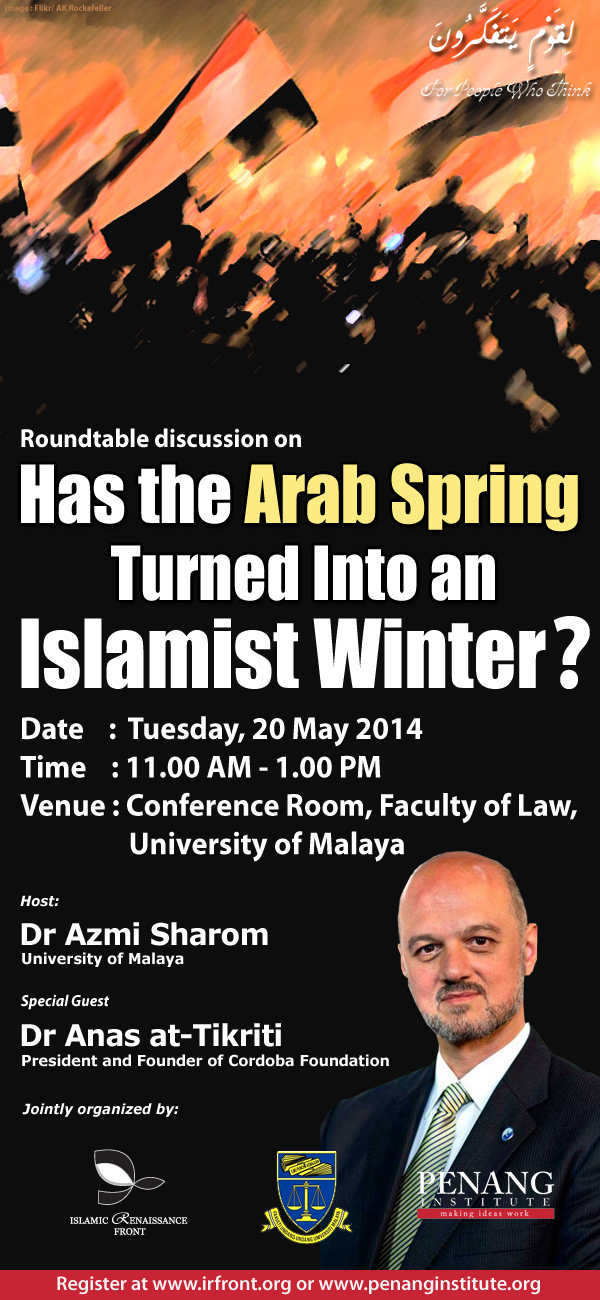 Date: Tuesday 20 May 2014
Time: 11AM – 1PM
Venue: Conference Room, Law Faculty, University of Malaya
Registration: http://www.eventbrite.com/e/roundtable-discussion-on-has-the-arab-spring-turned-into-islamist-winter-tickets-11594670973
The Arab Spring has given much hope to many Muslims around the world. It somehow signifies a new beginning, a new hope; the hope for a better future to live under civil governments and civil states. And gone is the era of authoritarian regimes.
However, with the turn of events, some of the supposed civil governments turned to consolidate more power and seen to have the aura of the authoritarian governments that they disposed of. This gives a new feeling that somehow could the promising spring has turned to winter unknowingly. After a while, it became clear that this awakening somehow did not ultimately lead to liberalization and democratization of the Arab nations.
Islamist parties that had more solid basis for promoting their political agenda through social institutions probably assumed that once they came to power the change of political order would be easier. This presumption ignored the sentiment that became a trigger factor for unfolding further protests all over the region. Public demand of the Arab nations consisted not in choosing between secularism and Islamic state but between corrupt governments and clear economic agenda on how to attain social justice.
Success of Islamist parties at the ballot boxes in 2012 in Egypt, Libya and Tunisia demonstrated that without the alliance with secularist parties, necessary pragmatism and clear economic programs electoral victory can turn into defeat of Islamist ideologies. Pluralism, competition, freedom of speech and assembly did not become the imperatives for new rulers in Arab world. And with the concealed support from some interested external powers left no doubt that the "spring" had turned into the "winter" and started leaving ashes instead of green shoots blooming in the streets.
---