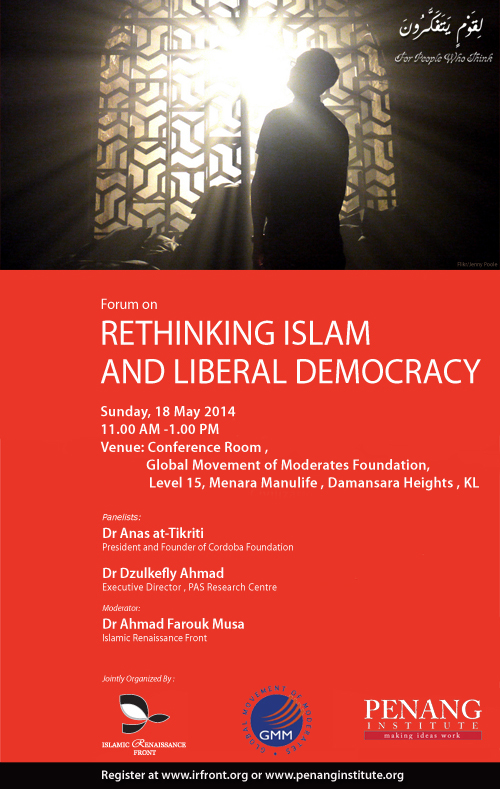 Date: Sunday 18 May 2014
Time: 11AM – 1PM
Venue: Conference Room, Global Movement of Moderates Foundation, Level 15 Menara Manulife, Bukit Damansara, Kuala Lumpur
Registration: https://www.eventbrite.com/e/forum-on-rethinking-islam-and-liberal-democracy-tickets-11640718703
"If by democracy is meant the liberal model of government prevailing in the West, a system under which the people freely choose their representatives and leaders, and in which there is an alternation of power, as well as freedoms and human rights for the public, then the Muslims will find nothing in their religion to oppose democracy, and it is not in their interest to do so anyway." [Rachid Ghannouchi]
The discussion on compatibility of Islam and liberal democracy counts several decades and armies of advocates on both sides. Could this standoff be explained by the concern of cultural invasion of the global north to the global south or are there profound incompatibilities of Islamic principles with pillars of democracy? And does liberal democracy pose a challenge of secularization to Muslim populated countries?
Of course the emergence of devoted Islamists such as Rachid Ghannouchi from Tunisian Islamist party en-Nahdah on the political scene with transformed views about Islam and its organic compatibility with democracy gave new hope. Similarly a change in rhetoric of Muslim Brotherhood that complies with the global trend of rising awareness about human rights, including the right to decide about the future of nation and to choose the best ruler among the candidates. It was about a new constitutionalism and embracing pluralism.
However critics have seen such a move as purely political, a masquerade to earn better results at ballot boxes and demonstrated demarcation from the profound ideas of long devoted Islamic ideologues. These are the pressing issues that warrant further dissection when it appears that liberal democratic principles to be the best solution for performing man's vicegerency on earth.
Program
1100-1110: Opening speech by the chairperson, Julia Sveshnikova
1110-1120: Welcoming speech by Dato' Saifuddin Abdullah
1120-1130: Speech by moderator, Dr Ahmad Farouk Musa
1130-1200: Speech by Dr Dzulkefly Ahmad
1200-1230: Speech by Dr Anas at-Tikriti
1230-1300: Q&A
1300: Lunch
---