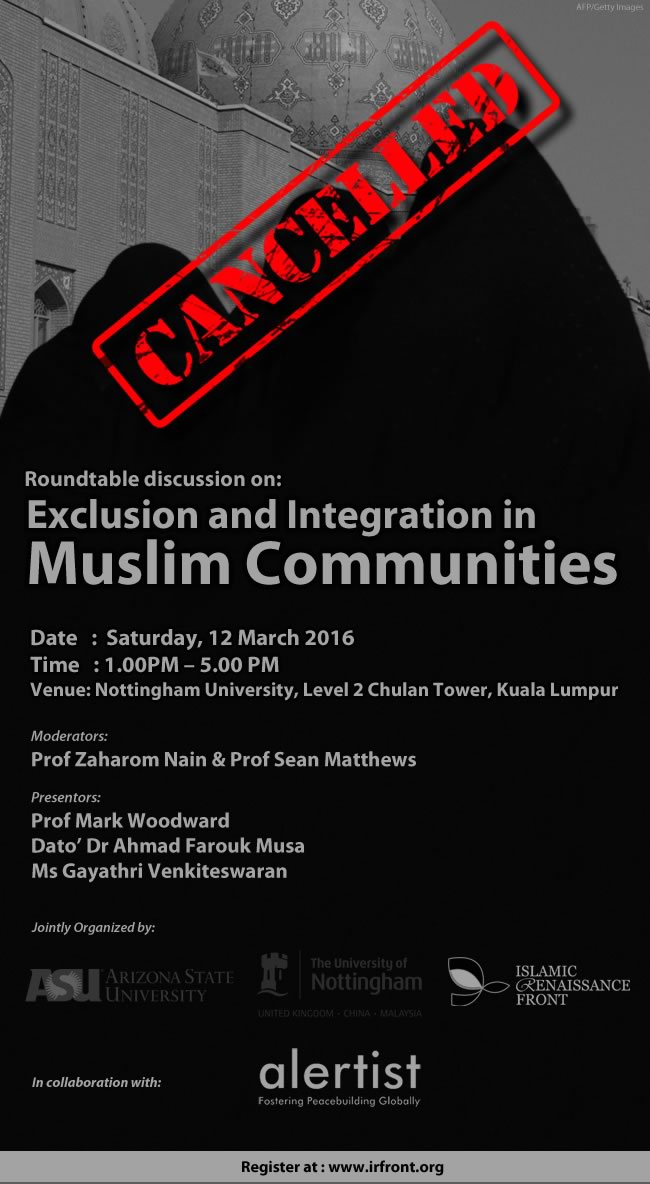 Date: Saturday, 12 March 2016
Time: 1PM – 5 PM
Venue: Nottigham University, Level 2 Chulan Tower, Kuala Lumpur
Registration: https://www.eventbrite.com/e/roundtable-discussion-on-exclusion-and-integration-in-muslim-communities-tickets-22680834988
For so long in the history of the Muslim civilization we have witnessed various instances of violence and conflicts between Sunnis and Shiites. While most of them are political rather than theological in nature, the series of conflicts are often articulated in religious terms. The great political battle of Muawiyya and Ali has often been portrayed as the genesis of this division, and act as an exemplar on how politics can give birth to a more complicated theological set of doctrines and justifications.
The coming of modernity, arguably, has amplified and changed the nature of the conflicts, making it revolves around modern nation state apparatus. Today the Shiites constitute the second largest denomination of Islam, forming up to 20 percent of the global Muslim population. In Malaysia alone, there is a common agreement that adherents of Shiism form a small number of the country's overall Muslim population, ranging vary considerably from 2000 to 250,000 people. (The Centre for Academic Shi'a Studies)
But unfortunately, the community has been treated as second class citizens, and often come under increasing scrutiny by religious authorities. For example, a ban on Shia Islam is still currently enforced in 11 out of 14 states in Malaysia, originating from a fatwa that was released in 1996, by the Fatwa Committee of the National Council for Islamic Affairs.
Globally the trend seems to continue, and each sect often being repressed and persecuted by the majority sect in the country. We can see in the last few years, Shiites has been subjected to violence in Bahrain, Pakistan, Indonesia and Egypt, while the Sunnis in Iraq have been the target of Shiites militia during the presidency of Nouri al Maliki.
Set against this background, this roundtable discussion will try to examine the phenomena; and try to answer several questions: Are this conflits largely theological by nature, or mostly political? What are the causes of these hatred? And are there any episodes in Islamic history where all sects in Islam can co-exist peacefully ? Will the minority sects; Shi'a, Bahai, Ahmadiyyah and others, ever be part of the Muslim ummah in Malaysia?
Jointly organized by: Arizona State University, Nottingham University, Islamic Renaissance Front
In collabration with: ALERTIST
Programs
1.00 Registration
1.10 Welcoming speech by Prof Sean Matthews
1.15 Roundtable Discussion
Moderator: Ms Hani Mohamed, CEO and Founder ALERTIST
Presenters:
Prof Mark Woodward - "Hate Speech and Sectarianism"
Dato' Dr Ahmad Farouk Musa - "Mitigating Sectarian Conflict: The Sunni-Shia Divide"
Ms Gayathry Venkiteswaran - "All but the Rohingyas: Media Coverage of Ethnics Politics in Burma"
3.15 Workshop and Discussion Activities
Moderator: Ms Hani Mohamed
5.00 Tea and networking.
---