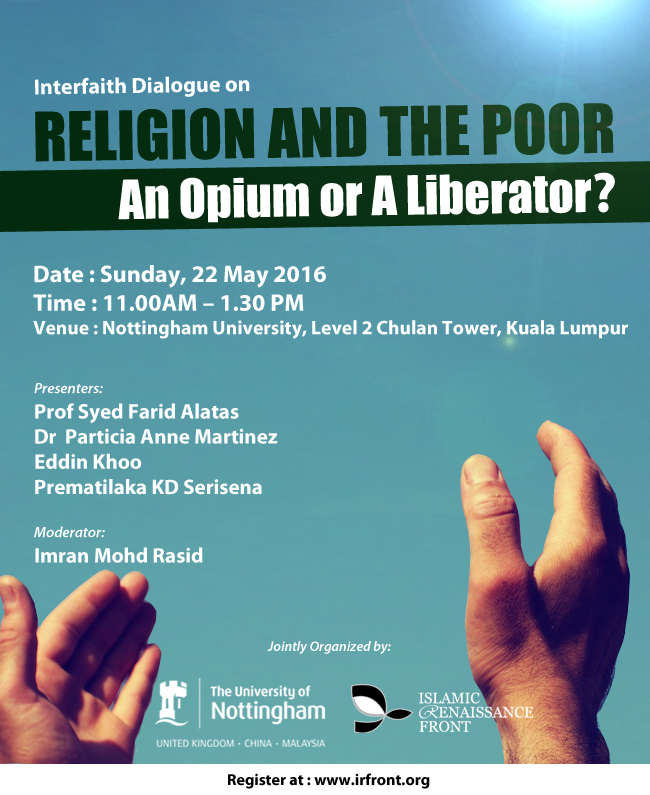 Date: Sunday, 22nd May 2016
Venue: Nottingham University, Jalan Raja Chulan, KL
Time: 11AM - 130PM
Registration: https://www.eventbrite.com/e/interfaith-dialogue-religion-and-the-poor-an-opium-or-a-liberator-tickets-25461873148
Panelists:
Prof Syed Farid Alatas,
Dr Particia Anne Martinez
Eddin Khoo
Prematilaka KD Serisena
Moderator: Imran Mohd Rasid
"It is not enough to say we must return to Islam. We must specify which Islam: that of Abu Dzarr or that of Marwan the Ruler. Both are called Islamic, but there is a huge difference between them. One is the Islam of the caliphate, of the palace and of the rulers. The other is the Islam of the people, of the exploited and of the poor."
[Ali Shariati, Islamology]
Ali Shariati, the famous Muslim thinker that has inspired the Iranian revolution, has reminded us that Islam, and any other religions in the world, can be a voice for two classes that are often antagonistic to each other throughout history: the elites "of the palace and of the rulers" and "of the exploited and of the poor".
While the former propagate a more "'degenerate and narcotizing" messages under the religious banner, the latter group, according to Shariati, understood their sacred texts and the words of their prophet as a "progressive and awakening" call to mobilize the masses to strive for social justice.
We have also learned from history that most of the prophets and spiritual figures always gravitate towards the marginalized and the oppressed. Jesus, who was born among the poorest in his community, proclaimed:
"The Spirit of the Lord is upon me, because he has anointed me to proclaim good news to the poor. He has sent me to proclaim liberty to the captives and recovering of sight to the blind, to set at liberty those who are oppressed" [Luke 4:18]
We have also seen similar instances in the history of other religions where all scriptures provide instructions and stories that inspired their followers to never abandon the poor.
This forum will try to examine the role of each religious traditions and its relationship to the poor. We will try to discuss why and how religions were manipulated to justify the corrupt and how one can revive back the revolutionary spirit of social justice and egalitarianism embedded in religion to face the modern challenges.
Programs:
1100-1105: Welcoming speech by Prof Zaharom Nain
1105-1115: Speech by moderator Imran Mohd Rasid
1115-1130: Speech by Prof Syed Farid Alatas
1130-1145: Speech by Eddin Khoo
1145-1200: Speech by Dr Patricia Martinez
1200-1215: Speech by Prematilaka KD Serisena
1215-1330: Discussion
1330 : Lunch
Organized by, Islamic Renaissance Front and Nottingham University
---