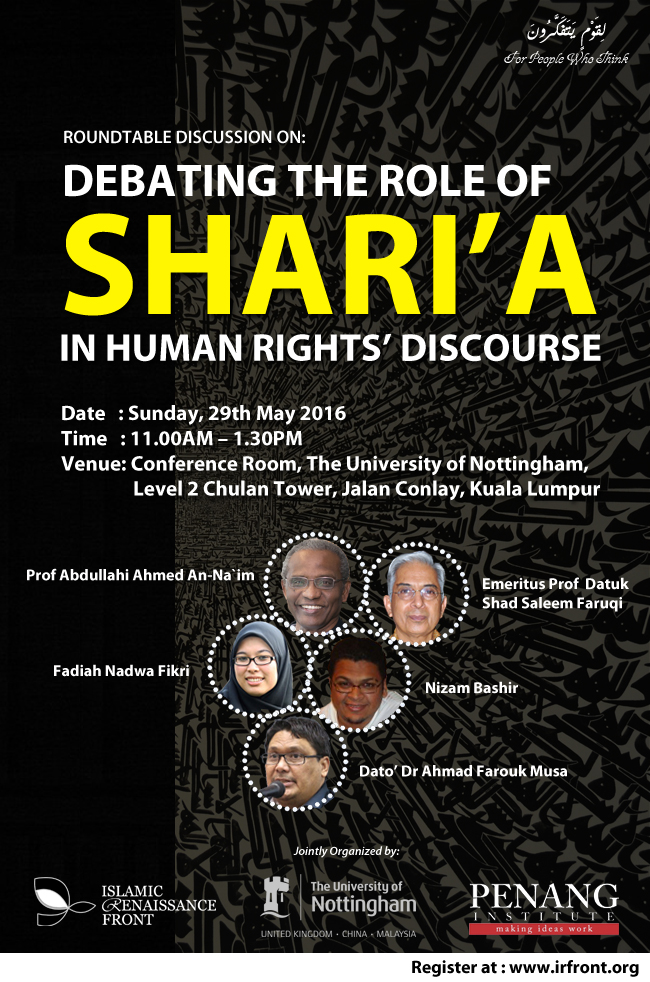 Date: Sunday, 29th May 2016
Time: 11AM – 130PM
Venue: Conference Room, The University of Nottingham, Level 2 Chulan Tower, Jalan Conlay, Kuala Lumpur
Registration: https://www.eventbrite.com/e/roundtable-discussion-on-debating-the-role-of-sharia-in-human-rights-discourse-tickets-25564809032
Presenter: Prof Abdullahi Ahmed An-Na`im
Interveners:
Emeritus Prof Datuk Shad Saleem Faruqi
Fadiah Nadwa Fikri
Nizam Bashir
Moderator: Dato' Dr Ahmad Farouk Musa
Islamic law, also known as Shari'ah law, is one of the most complex and multifaceted, yet easily misunderstood areas of law. It is complex because the law covered many aspects of human rights, politics, religion, economics, and criminal, and more often that not its complexity leads to many grave confusions, and sometimes grossly over-generalized and simplified by the media and perhaps some academic scholars as well.
This session will attempt at clearing such confusion, and will examine more closely on the relationship between Shari'ah law and The Universal Declaration of Human Rights (UDHR) as have generally been recognized as the foundational document in modern international institution today.
For so long the traditionalist and literalist Muslims have been preaching that the two is irreconcilable and the latter is a product of western secular thinking which will threaten the legitimacy of Islam in the world. In this session, Prof Abdullahi Ahmed An-Na`im will demystify these claims, and put forward arguments and narratives that will provide a harmonious synthesis between Sharia and Human Rights discourses, which is very much needed in the Muslim world today.
Programs:
1100-1105: Welcoming speech by Prof. Sean Matthews, Head of School, Modern Languages and Cultures, Faculty of Arts, Nottingham University
1105-1110: Speech by moderator Dato' Dr Ahmad Farouk Musa
1110-1145: Presentation on "Debating the role of Sharia in Islamic discourses" by Prof Abdullahi Ahmad an Naim, Charles Howard Candler Professor of Law, Emory University
1145-1200: Intervener I: Emeritus Prof Datuk Shad Saleem Faruqi
1200-1215: Intervener II: Fadiah Nadwah Fikri
1215-1230: Intervener III: Nizam Bashir
1230-1330: Discussion
1330: Lunch
Jointly organized by: Nottingham University, Islamic Renaissance Front and Penang Institute
---