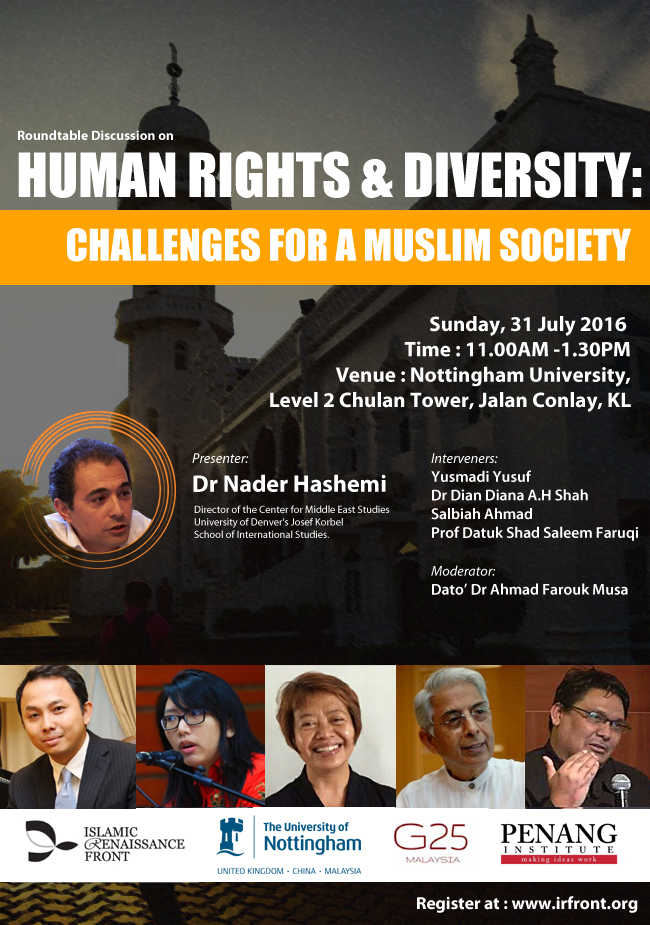 Date: Sunday, 31st July 2016
Time: 11.00AM – 1.30PM
Venue: Nottingham University, Jalan Raja Chulan, Kuala Lumpur
Registration: https://www.eventbrite.com/e/roundtable-discussion-on-human-rights-and-diversity-challenges-for-a-muslim-society-tickets-26598714471
Presenter: Dr Nader Hashemi
Interveners:
Yusmadi Yusoff
Dr Dian Diana A.H Shah
Salbiah Ahmad
Prof Datuk Shad Saleem Faruqi
Moderator: Dato' Dr Ahmad Farouk Musa
It is widely agreed that human rights and diversity of cultures have a mutually interdependent and beneficial relationship. Human rights provide various important facets like freedom of expression, freedom of religion, freedom of assembly, as well as the rights for each individual citizen in the member of the society to take part in cultural life and to education, and play a direct role in the promotion and protection of cultural diversity.
In fact, human rights flourished through pluralistic society as each member of different cultural and religious background can only live peacefully with each other when they learned to respect others for their individual rights. This resonates with The Universal Declaration of Cultural Diversity that was adopted by the Member States of UNESCO in 2001, which dictates that "that 'the defense of cultural diversity is…inseparable from respect for human dignity' and 'implies a commitment to human rights and fundamental freedoms'.
Yet, the manner in which human rights are observed in a society of diverse cultural and religious background is more complicated, and to certain extent very problematic. Most of the Muslim majority countries scored relatively low in international human rights index and did not do very well in promoting freedom and democratic rights to their own citizen especially the minorities.
One can only turn to ten countries most closely associated with Islam that comprised of 90% Muslim in the population: Saudi Arabia, Jordan, Egypt, Syria, Libya, Iran, Iraq, Pakistan, Turkey, and Afghanistan, and the record shows that seven of these ten countries listed as "authoritarian regimes" in 2014 Democracy Index.
Another measurement developed and published in book called "The Price of Religious Freedom Denied: Religious Persecution and Conflict in the Twenty-First Century" (2011) by sociologist Brian Frim and Roger Finke on Religious Freedom in Muslim majority countries shows that seventy-eight percent of Muslim-majority countries have high levels of government restrictions on religious freedom, compared with forty-three percent of all other countries and only ten percent of Christian countries
This roundtable discussion will then try to dissect this phenomenon, and will attempt to put forward an explanation why Muslim majority countries, with diverse religious and cultural traditions, faced real difficulties in setting the human right agenda at the national level and how they can go forward.
Programs:
1100-1105:   Welcoming speech by Prof Zaharom Naim
1105-1110:   Speech by moderator Dato' Dr Ahmad Farouk Musa
1110-1145:   Presentation on "Human Rights and Diversity: Challenges for A Muslim Society" by Dr Nader Hashemi
1145-1200:   Intervener I: Yusmadi Yusuf
1200-1215:   Intervener II: Dr Dian Diana A.H Shah
1215-1230:   Intervener III: Salbiah Ahmad
1230-1245:   Intervener IV: Prof Datuk Shad Saleem Faruqi
1245-1330:   Discussion
1330           :   Lunch
Jointly organized by: Islamic Renaissance Front, Nottingham University and G25
---