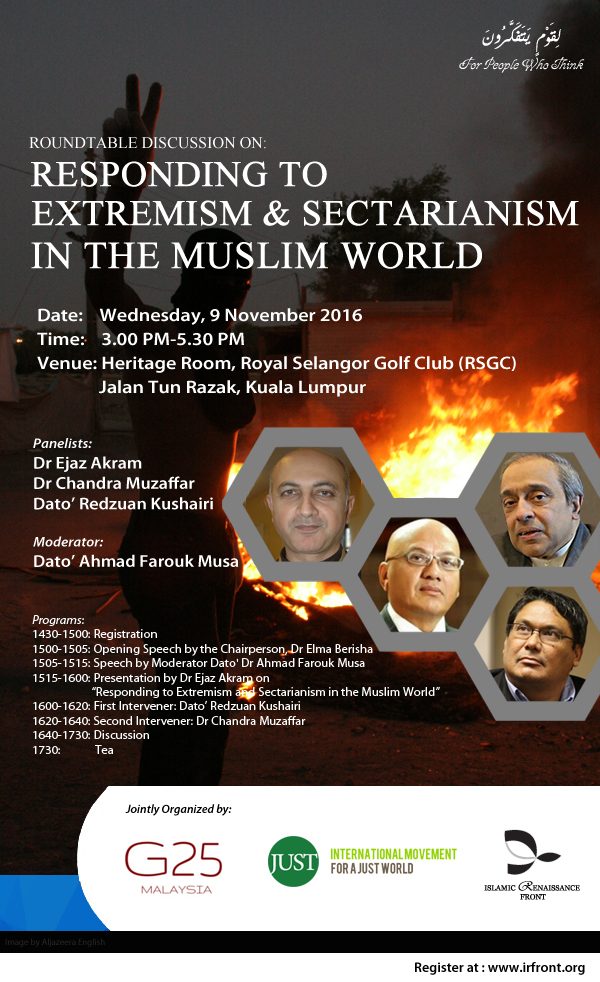 Date: Wednesday, 9 November 2016
Venue: Heritage Room, Royal Selangor Golf Club (RSGC), Jalan Tun Razak, Kuala Lumpur
Time: 3-530 PM
Register: https://www.eventbrite.com/e/roundtable-discussion-on-responding-to-extremism-and-sectarianism-in-the-muslim-world-tickets-29000710907
Panelists:
Dr Ejaz Akram, Lahore University of Management Sciences (LUMS), Pakistan
Dr Chandra Muzaffar, JUST
Dato' Redzuan Kushairi, G25
Moderator:
Dato' Dr Ahmad Farouk Musa, Islamic Renaissance Front
Islamism is thought to be a product of the failure of authoritarian nationalist governments and the socio-economic imbalance that has been exacerbated by neo-liberal globalization. Many Islamists see the evil forces supplanting true Muslim religious and cultural values via military and cultural invasions. And in addition to these, the harsh treatment of the ulama' and activists at the hands of the regimes has been another factor in the production of extreme ideas and writings.
While these factors contributed to the resurgence of Islamism, the world has also witnessed the by-product manifested in an extreme form. The formation of the Islamic State of Iraq and Syria (ISIS) is a clear example. Many analysts view this phenomenon as a new trend in Islamism, which is basically a reaction to modernism; but a careful analysis of the traditional Islamist texts would probably view this movement as a new wave in an old continuum. Thus contemporary Islamic fundamentalism is perhaps not a new phenomenon but one that has deep roots in the writings of traditional Islamists and in the experiences that both traditionalists and Muslim communities have encountered throughout history.
It is true that these extremists might not be able to impose their "order" on the world, but obviously they can create disorder; on a vast scale. This phenomenon is made worse by the heightened persecution of the Muslim minorities, Shias in particular, in many parts of the Muslim world. The phenomenon stemmed from the view proposed by some fundamentalists on whether minority sects are real Muslims. The sectarian tension has therefore accelerated because many in the Muslim world nowadays have not accepted Shias as Muslims.
Hence this roundtable will try to bring about the debate on the roots of religious extremism, the factors that contributed to the spread of fundamentalist and extremist ideas, the growing sectarian divide between the Sunni and Shi'I, and how to respond and mitigate this current phenomenon. 
Jointly organized by Islamic Renaissance Front, G25, JUST
Programs:
| | |
| --- | --- |
| 1430-1500: | Registration |
| 1500-1505: | Opening Speech by the Chairperson, Dr Elma Berisha |
| 1505-1515: | Speech by Moderator Dato' Dr Ahmad Farouk Musa |
| 1515-1600: | Presentation by Dr Ejaz Akram on "Responding to Extremism and Sectarianism in the Muslim World |
| 1600-1620 | First Intervener: Dato' Redzuan Kushairi |
| 1620-1640 | Second Intervener: Dr Chandra Muzaffar |
| 1640-1730: | Discussion |
| 1730: | Tea |
Biographical details of the Invited Speakers
Dr. Ejaz Akram is Associate Professor in the Faculty of Humanities and Social Sciences at LUMS since August 2005. He holds a Ph.D. in World Politics from the Catholic University of America, Washington, D.C.  He has also served as an Assistant Professor at the American University in Cairo, in Egypt, from 2003-2005. He is due to join National Defense University, Islamabad from January 2017 as Full Professor and Department Head of International Relations Department. Dr. Akram specializes in the field of Religion & Politics with a focus on the Muslim world, particularly the Middle East and South Asia, but also the religio-political issues of Christianity and Hinduism. He has taught a large variety of courses, including Comparative World Religions, Religion and World Politics, Islamic Civilization and the West, East Asia and the Muslim World, Islamic Political Philosophy, Islamic Philosophy and Theology and Philosophy & Politics of Global Ecology. He has published numerous scholarly books, articles, reviews and editorials, and has conducted and appeared on several radio and television programs in Pakistan, North America, South Asia and the Middle East. His scholarly works have focused on subjects relating to religious studies and political philosophy, such as religion and the dialogue of civilizations, religious resurgence and fundamentalism. He has also authored several book chapters and articles in the field of international relations and intelligence studies.
Dato' Redzuan Kushairi is a founding member of the G25, a group committed to pursue a just, democratic, peaceful, tolerant, harmonious, moderate and progressive multi-racial, multi cultural, multi religious Malaysia through Islamic principles of wasatiyah and maqasid shari'ah that affirms justice, compassion, mercy, equity. He is a member of the Royal Council of the State of Perak and has served in the Malaysian Diplomatic Service from 1972 to 1996. He was the Malaysian Ambassador to Uzbekistan from 1994 to 1996 and also served as Deputy Permanent Representative at the Malaysian Mission to the United Nations, Deputy High Commissioner in the United Kingdom, Charge d' Affaires in Ethiopia, First Secretary/ Head of Chancery in Washington D.C., and Second Secretary in Moscow
Dr. Chandra Muzaffar is both a social activist and an academic. He is the President of the International Movement for a Just World (JUST), an international NGO based in Malaysia, which seeks to critique global injustice and to develop an alternative vision of a just and compassionate civilization guided by universal spiritual and moral values. He has published extensively on civilizational dialogue, international politics, religion, human rights and Malaysian society.
---