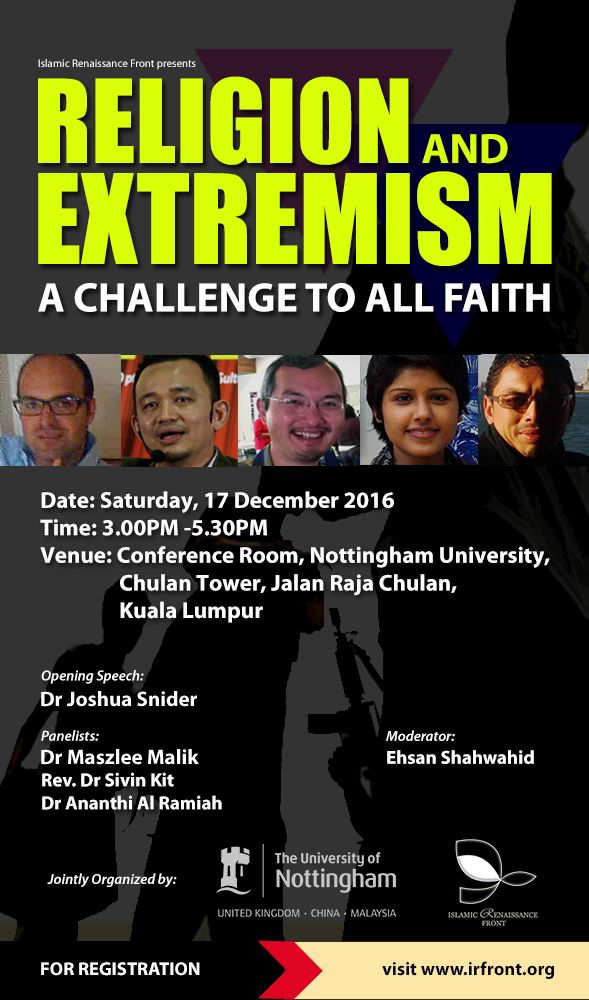 Date: Saturday, 17th December 2016
Venue: Conference Room, Nottingham University, Chulan Tower, Jalan Raja Chulan, Kuala Lumpur
Time: 3-530 PM
Registration: https://www.eventbrite.com/e/forum-on-religion-and-extremism-a-challenge-to-all-faiths-tickets-29565541330
Opening Speech: Dr Joshua Snider, Nottingham University
Panelists:
Dr Maszlee Malik, International Islamic University Malaysia, Kuala Lumpur
Rev. Dr. Sivin Kit, Malaysia Theological Seminary (STM)
Dr. Ananthi Al Aramiah, University Of Oxford
Moderator: Ehsan Shahwahid, Islamic Renaissance Front (IRF)
Jointly organized by: Islamic Renaissance Front and Nottingham University
There is no doubt that we are living today in a world plagued with many problems, and religious extremism among many others, is of a serious concern. Extremism, in general could be well understood as a state of thinking and living that undermines the values of peace, tolerance and harmony, for the sake of achieving an agenda that goes beyond moderation, through an approach that goes beyond acceptable norms.
Within the past several centuries, acts of extremism can be traced either in the history of religions or secular ideologies. Sadly, of late, Islam, the religion of peace and justice, is now implicated most as a religion of extremes. Though such accusations may sound extreme enough, but the arguments were founded by real events and actual conflicts, particularly on the case of Daesh or Islamic State of Iraq and Syria (ISIS) making such accusations in some ways have their own validity. While on the other side, Muslim scholars in general tend to dissociate such acts as to have nothing related to Islam.
On such matters where there seemed to be relations between religion, extremism, and us, human beings, it is worth to consider the opinion of Reza Aslan in his book Beyond Fundamentalism, in which he mentioned,
"It is easy to blame religion for acts of violence carried out in religion's name, easier still to comb through scriptures for bits of savagery and assume a simple causality between the text and the deed. But no religion is inherently violent or peaceful; people are violent or peaceful."
Understanding that extremism and violence are actually barbaric acts, in which religion just became a tool of justifications; it is important for us to reflect on why is it for some reason in these cases, religion, which is supposed to be the provider of light, somehow turned out to be a manifestation of the darker sides of human lives. Where could have things gone wrong? And how should we, human beings especially believers of religion play our role to be part of the solution to this problem of religious extremism.
Thus, we at the Islamic Renaissance Front, are organizing and inviting participation from academics, activists and the general public to be part of the conversation and come together to restore the role of Islam, together with other religions and faiths to their actual spirit, principles and functions, as a blessing towards all mankind and the entire universe.
Programs:
1430-1500: Registration
1500-1510: Speech by Chairperson, Dr Elma Berisha
1510-1520: Opening sppech by Dr Joshua Snider
1520-1530: Introduction by Moderator, Ehsan Shahwahid
1530-1550: First Speaker: Dr Maszlee Malik,  IIUM Kuala Lumpur
1550-1610: Second Speaker: Rev. Dr. Sivin Kit, STM
1610-1630: Third Speaker: Dr. Ananthi Al Aramiah, Oxford
1630-1730: Discussion
1730: Tea
Biographical details of the Invited Speakers
Dr Maszlee Malik is Assistant Professor in the Faculty of Islamic Revealed Knowledge and Human Sciences at the International Islamic University Malaysia in Kuala Lumpur. He obtained his Ph.D. in the UK in Political Science. Dr. Maszlee also taught at Durham University from 2008 – 2009. He was invited to be a guest speaker for SOAS summer school on 'Political Islam' for two consecutive years, 2009 and 2010. Furthermore, Dr. Malik is also frequently invited as a guest speaker by many Malaysian media outlets to talk on the issues relating to Political Islam, Middle Eastern Politics, and Arab Spring. His research area is in Islamic jurisprudence, Contemporary Islamic Political Thoughts and Movements and Good Governance.
Rev. Dr. Sivin Kit is a pastor from the Lutheran Church in Malaysia (LCM) and teaches at the Malaysia Theological Seminary (Seminari Teologi Malaysia - STM). He holds a PhD in Religion, Ethics, and Society from the University of Agder, Norway. He is also the Director of the Institute of World Religion, STM and advisor of the social discourse page, Projek Dialog.
Dr. Ananthi Al Aramiah  is a Senior Researcher and Academic Consultant in Social Psychology focusing on the areas of inter-ethnic contact and conflict. She is currently leading a national project for the University of Oxford investigating Ethnoreligious diversity in Malaysia. She has a BA in Philosophy, Politics and Economics and a PhD in Experimental Social Psychology from Oxford University.  She has published in various international journals on the topics of interethnic contact, prejudice reduction, discrimination, compromise, identity and threat. Prior to this, she was an Assistant Professor of Social Sciences at Yale-NUS College, Singapore.
---