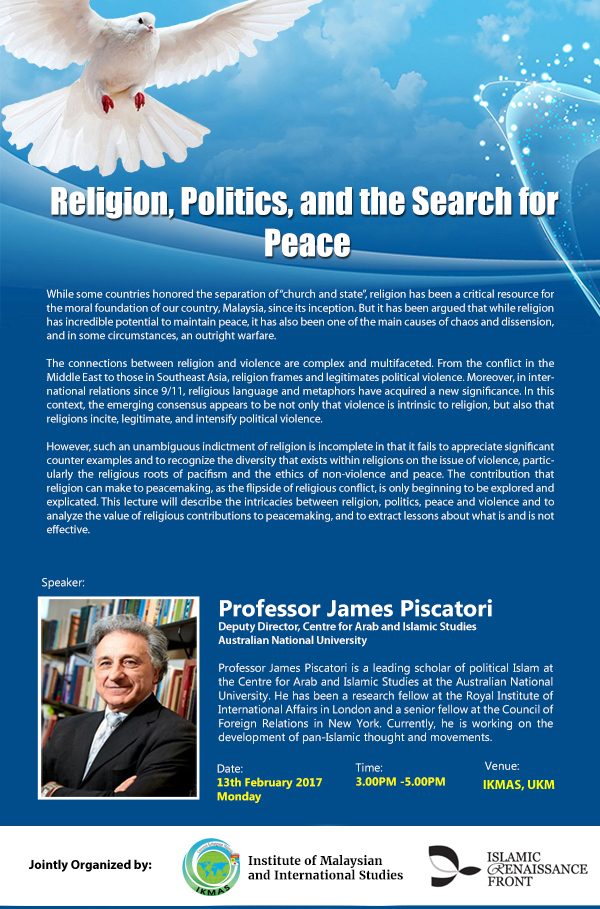 Date: Monday, 13th February 2017
Time: 3PM -5 PM
Venue: IKMAS, UKM
Registration: https://www.eventbrite.com/e/public-lecture-on-religion-politics-and-the-search-for-peace-tickets-31591878158
Prof James Piscatori
Deputy Director, Centre for Arab and Islamic Studies, Australian National University
While some countries honored the separation of "church and state", religion has been a critical resource for the moral foundation of our country, Malaysia, since its inception. But it has been argued that while religion has incredible potential to maintain peace, it has also been one of the main causes of chaos and dissension, and in some circumstances, an outright warfare.
The connections between religion and violence are complex and multifaceted. From the conflict in the Middle East to those in Southeast Asia, religion frames and legitimates political violence. Moreover, in international relations since 9/11, religious language and metaphors have acquired a new significance. In this context, the emerging consensus appears to be not only that violence is intrinsic to religion, but also that religions incite, legitimate, and intensify political violence.
However, such an unambiguous indictment of religion is incomplete in that it fails to appreciate significant counter examples and to recognize the diversity that exists within religions on the issue of violence, particularly the religious roots of pacifism and the ethics of non-violence and peace. The contribution that religion can make to peacemaking, as the flipside of religious conflict, is only beginning to be explored and explicated. This lecture will describe the intricacies between religion, politics, peace and violence and to analyze the value of religious contributions to peacemaking, and to extract lessons about what is and is not effective.
Jointly organized by:
Institute of Malaysian and International Studies (IKMAS) and Islamic Renaissance Front
Professor James Piscatori is a leading scholar of political Islam at the Centre for Arab and Islamic Studies at the Australian National University. He has been a research fellow at the Royal Institute of International Affairs in London and a senior fellow at the Council of Foreign Relations in New York. Currently, he is working on the development of pan-Islamic thought and movements.
---