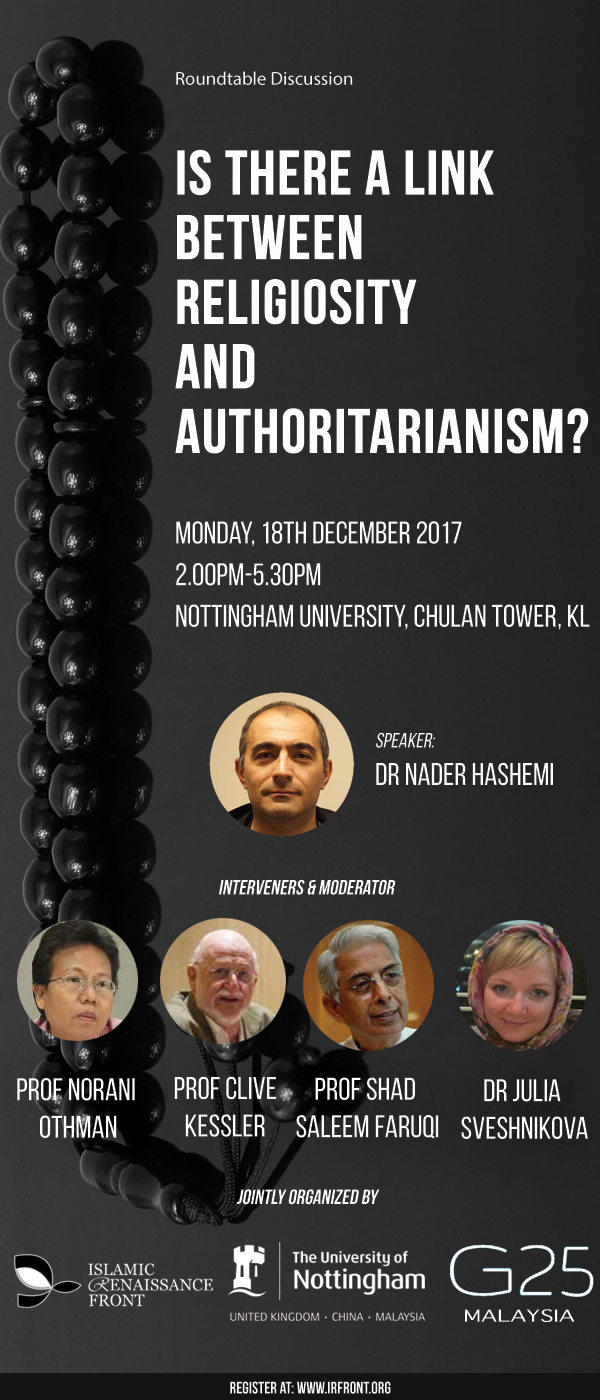 Date: Monday, 18th Dec 2017
Time: 2.00PM – 5.30PM
Venue: Nottingham University, KL
Speaker:
Dr Nader Hashemi
Interveners:
Prof Norani Othman, Universiti Kebangsaan Malaysia
Emeritus Professor Clive Kessler, University of New South Wales
Emeritus Professor Shad Saleem Faruqi, University of Malaya
Moderator:
Dr Julia Sveshnikova, Islamic Renaissance Front
Jointly organized by:
Islamic Renaissance Front (IRF), Nottingham University & G25
Register at: https://www.eventbrite.com/e/roundtable-discussion-on-is-there-a-link-between-religiosity-and-authoritarianism-tickets-41198121691
There have been growing trends of increasing religious consciousness and at the same time growing political authoritarianism in the Muslim societies, causing the distance between religion and politics to be diminishing in recent times. And a growing body of evidence is suggesting that those who tend to be religious, often bend towards authoritarianism. A recent research published in 2007 for example, suggested a strong correlation between religious observers and a strong feeling of religious affiliation to "intolerance, prejudice, authoritarianism, and dogmatism".
Fundamentalists seem to have the strongest association with authoritative ideas. This includes traits such as respect for social order, submission to authority, and conventionality, and an intolerance for outside group.
Could it be that religiosity has created a sense "being on a true path"? That anyone who has a different interpretation is deemed deviant? Or could it be that religiosity has somehow created a sense that we have achieved salvation and that it is our duty to ensure others would achieve salvation as well? And they should be coerced to have a similar understanding of religion in order for them to attain salvation?
These are the questions that begged for answers. This roundtable discussion will discuss and debate on the issue and some other related subjects as well.
Programs:
2.00-2.30: Registration
2.30-2.40: Welcoming speech by Prof Joanne Lim, Nottingham University Malaysia
2.40-2.50: Speech by moderator, Dr Julia Sveshnikova
2.50-3.30: Speech by Dr Nader Hashemi
3.30-3.50: Intervening speech by Prof Norani Othman
3.50-4.10: Intervening speech by Emeritus Professor Clive Kessler
4.10-4.30: Speech by Emeritus Prof Shad Saleem Faruqi
4.30-5.30: Discussion
5.30 : Tea
Biographies of the Speakers
Dr Nader Hashemi is a Professor and Director of the Center for Middle East Studies at the University of Denver's Josef Korbel School of International Studies. Born and raised in the Toronto area to Iranian parents, Dr. Hashemi completed his B.A., M.A., and Ph.D. in Canada. He obtained his Ph.D. from the University of Toronto and was a research affiliate at the Center for Middle Eastern Studies at Harvard University, a postdoctoral Fellow at Northwestern University, and a Global Fellow at the UCLA International Institute. He has contributed to The New York Times , TIME, The Wall Street Journal, CNN, and has appeared on The PBS Newshour. He is the author of Islam, Secularism, and Liberal Democracy, and co-editor of The Syria Dilemma and The People Reloaded: The Green Movement and the Struggle for Iran's Future. As an undergraduate student in Ottawa, Canada, Hashemi hosted a radio program. He is an avid swimmer and enjoys playing the guitar.
Professor Norani Othman is currently a Professorial Research Fellow of Sister In Islam (SIS). She was also one of the seven founding members of SIS and until 2013 was its Board member. She was also a founding Research Fellow of IKMAS (Institute of Malaysian & International Studies), UKM and until Jan. 2011; its Principal Fellow and Professor in Sociology of Religion, specializing in issues related to Islamic societies, human rights, rights and empowerment of women, democratization and globalization. Among her most important publications are: Shar'ia Law and the Modern Nation-State: A Malaysian Symposium (editor 1994); Gender, Culture and Religion: Equal before God, Unequal before Man (co-editor with Cecilia Ng, 1995); "Grounding Human Rights Arguments in Non-Western Culture: Shar'ia and the Citizenship Rights of Women in a Modern Islamic Nation-State" in The East Asian Challenge for Human Rights, edited by Joanne Bauer and D.A. Bell (1999); Capturing Globalization (co-editor with James Mittelman, 2001); Elections and Democracy in Malaysia (co-editor with Mavis Puthucheary, 2005); Muslim Women and the Challenge of Islamic Extremism (editor 2006); "Globalization, Islamic Resurgence, and the State Autonomy: The Response of the Malaysian State to 'Islamic Globalization'" in Globalization & National Autonomy: The Experience of Malaysia edited by Joan M. Nelson, Jacob Meerman & Abdul Rahman Embong, 2008; Sharing the Nation: Faith, Difference, Power & the State 50years after Merdeka (co-author with Mavis Puthucheary & Clive S. Kessler, 2008).
Professor Clive S. Kessler is now Emeritus Professor of Sociology & Anthropology at the University of New South Wales, Sydney Australia, where he held a professorial position from 1980 to 2004. Before that he held academic positions at LSE and Barnard College, Columbia University, New York. He has been studying Malay culture, society, politics and religion since the mid-1960s. He also writes about multiculturalism, religion and democratic theory. He is especially interested in the divergent evolutionary development (doctrinal, political and social) of the three forms of Abrahamic ethical-prophetic monotheism (Judaism, Christianity and Islam), in the long-term patterns of historical interrelations between the three civilizations born within these faith communities, and with the way and extent to which those intercivilizational dynamics have provided the contours of much of world history. His more general work centres on the question of modernity and its varying cultural forms and diverse civilizational expressions. He has held visiting positions at and maintains close connections with several Malaysian universities. His contributions to scholarship have been recognized in his election as a Fellow of the Academy of the Social Sciences in Australia.
Emeritus Professor Datuk Dr. Shad Saleem Faruqi is a Professor of Law who has served Universiti Teknologi MARA (UiTM) in Shah Alam, Selangor in various capacities from 1971 onwards. He specialized in Constitutional Law and Human Rights issues. He is the author of Human Rights, Globalisation and the Asian Economic Crisis, Islam International Law and the War Against Terrorism, Islam, Democracy and Development, Document of Destiny: The Constitution of the Federation of Malaysia and The Bedrock of Our Nation: Our Constitution. He is the co-author of Media Law & Regulations in Malaysia and Co-editor of Decolonising Our Universities – Towards a Non-Eurocentric Paradigm. He has contributed over 350 articles to legal periodicals, anthologies and newspapers and has presented over 300 seminar papers in 15 countries including the US, UK, Australia, Germany and Japan. He is currently Tunku Abdul Rahman's Chair Holder, Faculty of Law in University of Malaya.
Dr Julia Sveshnikova is a Policy Analyst at the Islamic Renaissance Front. She holds PhD in History of International Relations and Foreign Politics from the Institute of Oriental Studies of the Russian Academy of Sciences and Master's in Muslim World Issues from the International Institute of Islamic Thought and Civilization (ISTAC), Malaysia. She is a Research Fellow at the Higher School of Economics (Moscow) and a consultant for PIR-Center, and author for Al-Monitor Russia-Mideast. Her areas of interest include but are not limited to the Iranian domestic politics and foreign policy, Iran-Russia relations, geopolitics of Middle Eastern conflicts and politics of ASEAN countries.
---