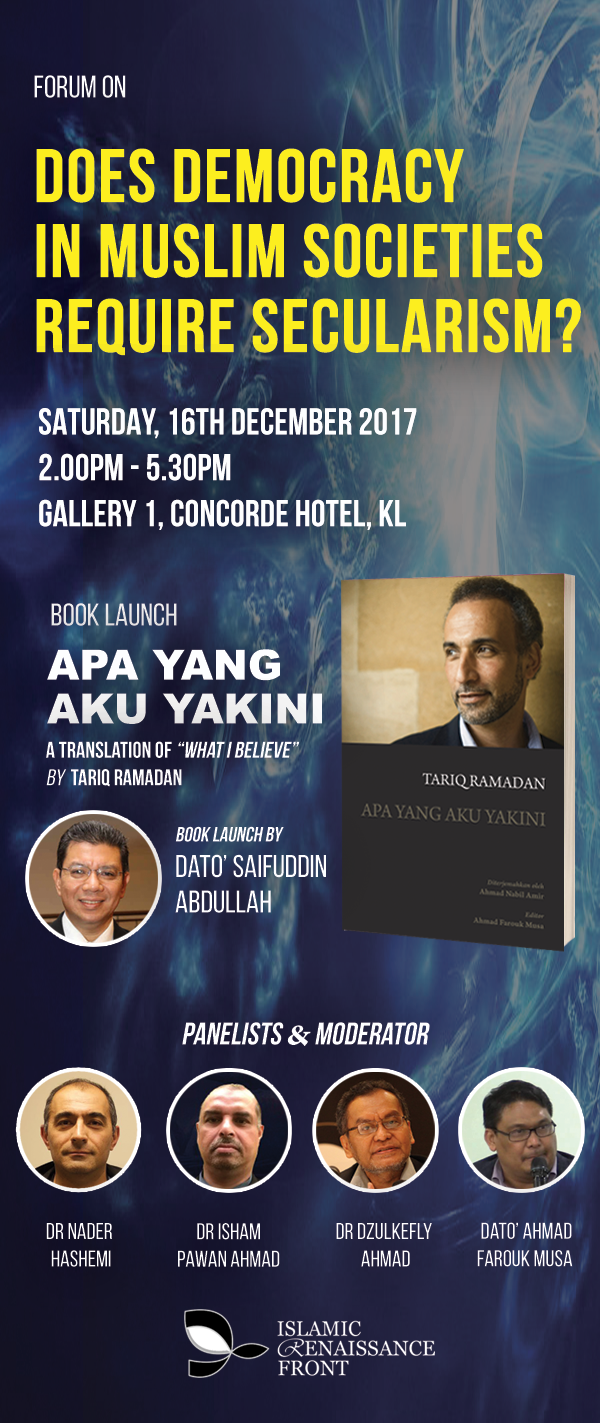 Date: Saturday, 16th December 2017
Time: 2.00PM – 5.30PM
Venue: Gallery I, Concorde Hotel, KL
Speaker:
Dr Nader Hashemi
Discussants:
Dr Isham Pawan Ahmad
Dr Dzulkefly Ahmad
Moderator:
Dato' Dr Ahmad Farouk Musa
Book Launch of:
"Apa Yang Aku Yakini" by Dato' Saifuddin Abdullah
A translation of "What I Believe" by Tariq Ramadan
Organized by:
Islamic Renaissance Front (IRF)
Register at: https://www.eventbrite.com/e/forum-on-does-democracy-in-muslim-societies-require-secularism-tickets-41199645248
For more than a century, since the early encounter with modernity, Muslim societies have grappled in finding the best mechanism of governance towards achieving progressive and sustainable political entities. Democracy is generally accepted globally as the ideal political system, representing the zeitgeist of our time, and the solution in curtailing abusive and unjust authorities rampant in past generations. However, Muslim countries in various parts of the world seem to remain cautious and suspicious in fulfilling the demands of democratic principles, partially due to the secular nature of governance, commonly perceived as to be lacking divine guidance.
Thus unsurprisingly, based on the 2016 Democracy Index by the Economist Intelligent Unit (EIU), even the best of Muslim countries could only be rated as 'Flawed Democracy', while many other Muslim countries still belong to the category of an 'Authoritarian Regime'. This has caused a common assumption that Islam is inherently unsuitable with democracy. However, studies have indicated this assumption as to be untrue. A study by Pew Research in 2012 in several Muslim countries has shown that the Muslim population in general support and preferred democracy and its principles to implemented in their societies, while at the same time the study also found that Muslims favour a large and active role of Islam in politics and public life, thus a rejection of a secular system of politics and governance.
In such settings of the Muslim societies in recent times, with failing democracies in their countries, while the people unquestionably hold high aspirations of democracy, at the same time favour an active role of Islam in politics, and a rejection of secularism, indicate some contradictions, and perhaps could lead us to a simple conclusion that the current political formula of democracy in Muslim societies is just not working. There must be several reasons of why democracy is not properly working, and among them could it be that Muslim countries require Secularism in order for democracy to function in the society?
This forum will address this question, and other related topics to open our minds and views in improving our state of democracy, towards progress and sustainability for the future of Muslim societies.
Programs:
2.00-2.30: Registration
2.30-2.40: Opening speech by Ehsan Shahwahid
2.40-3.00: Book Launch of "Apa Yang Aku Yakini" by Dato' Saifuddin Abdullah.
A translation of "What I Believe"by Tariq Ramadan
3.00-3.10: Speech by moderator, Dato' Dr. Ahmad Farouk Musa
3.10-3.50: Speech by Dr Nader Hashemi
3.50-4.10: Speech by Dr Isham Pawan Ahmad
4.10-4.30: Speech by Dr Dzulkefly Ahmad
4.30-5.30: Discussion
5.30 : Tea
Speakers' Biographies:
Dr. Nader Hashemi is a Professor and Director of the Center for Middle East Studies at the University of Denver's Josef Korbel School of International Studies. Born and raised in the Toronto area to Iranian parents, Dr. Hashemi completed his B.A., M.A., and Ph.D. in Canada. He obtained his Ph.D. from the University of Toronto and was a research affiliate at the Center for Middle Eastern Studies at Harvard University, a postdoctoral Fellow at Northwestern University, and a Global Fellow at the UCLA International Institute. He has contributed to The New York Times , TIME, The Wall Street Journal, CNN, and has appeared on The PBS Newshour. He is the author of Islam, Secularism, and Liberal Democracy, and co-editor of The Syria Dilemma and The People Reloaded: The Green Movement and the Struggle for Iran's Future. As an undergraduate student in Ottawa, Canada, Hashemi hosted a radio program. He is an avid swimmer and enjoys playing the guitar.
Dr Isham Pawan Ahmad is an Associate Professor teaching philosophy and theology at the International Islamic University, Malaysia. He obtained his Master at the University of Chicago under the late Prof. Fazlur Rahman and his PhD from the University of Edinburgh, Scotland. His research interest focuses mainly on questions on epistemology and how it impacts our understanding of the relationship of revelation to reason. This understanding shapes our view of religion and ethical worldview. He has expanded this research to include works on interfaith dialogue which translated in collaborations in works on global religious understanding and appreciation with recognition and acceptance of global ethics. He has written and presented numerous papers both locally and internationally.
Dr Dzulkefly Ahmad is the Strategy Director of Parti Amanah Negara (AMANAH), an Islamist Democrat and former MP for Kuala Selangor. He was a trained Toxicologist from the Imperial College, UK. He has alos authored Striving For Change (The Blindspot Series) and Najibnomics: Rahmat Atau Malapetaka?. Dr Dzulkefly was a former Director for PAS Research Center and an executive member for PAS. He is a prominent Islamist leader that promotes Islamist Democrat agenda even while in PAS before.
Dato' Dr Ahmad Farouk Musa is a Chairman and Director of the Islamic Renaissance Front, an intellectual movement and think-tank promoting reform and renewal in Islam, democracy, good governance and human rights. He is actively involved in civil society and the emerging discourse on post-Islamism. He is also involved in interfaith dialogues especially with regard to Christian-Muslim relations and intra-faith dialogues especially the Shi'i-Sunni discourse. He has presented papers at numerous international meetings including the latest at the Symposium on Islam and Contemporary Issues in Tehran, Iran, in March 2017.  Professionally, he is an academic at the School of Medicine, Monash University Malaysia and a trained Cardiothoracic Surgeon. He is currently a Commissioner at the Commonwealth Initiative for the Freedom of Religion or Belief (CIFoRB) based in Westminster, London. He is also a Director at the Centre for Combating Corruption and Cronyism (C4) and was recently appointed as a Research Fellow at Sekolah Tinggi Filsafat Islam Sadra (STFI Sadra), Jakarta, Indonesia. He was a former Deputy-Chairperson of BERSIH 2.0, a strong civil movement working for a free and fair election.
---