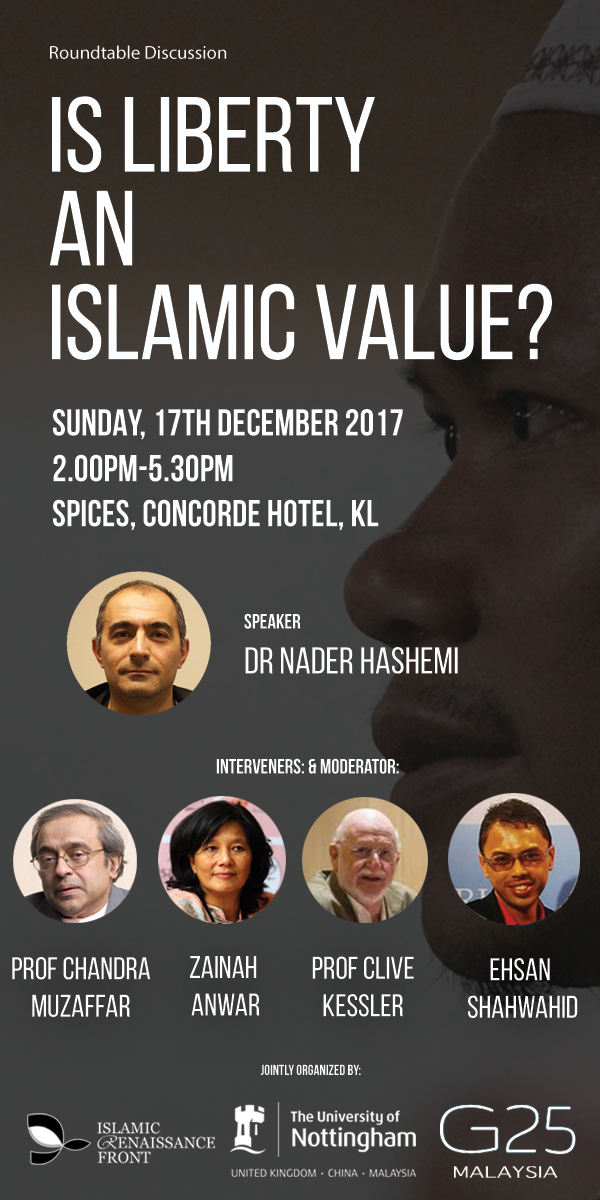 Date: Sunday, 17th December 2017
Time:  2.00-5.30PM
Venue: Spices, Concorde Hotel, Kuala Lumpur
Presenter
Dr Nader Hashemi
Interveners:
Dr Chandra Muzaffar, International Movement for a Just World (JUST)
Zainah Anwar, MUSAWAH
Emeritus Prof Clive Kessler, University of New South Wales
Moderator:
Ehsan Shahwahid, Islamic Renaissance Front (IRF)
Jointly organized by:
Islamic Renaissance Front, The University of Nottingham & G25
Register at:
https://www.eventbrite.com/e/roundtable-discussion-on-is-liberty-an-islamic-value-tickets-41202545924
For the past quarter of a century, the absolute number of democracies in the world has almost tripled. However, many Muslim countries remained indifferent to this wave of change, and have the world's lowest average levels of freedom.
The Arab league, with a total population of 300 million, with a land area larger than all of Europe, and plentiful oil and natural resources; today have a GDP lower than that of Belgium plus Holland, produce fewer scientific publications than Israel alone, and translate fewer books than Greece. Throughout most of the region, poverty and human rights abuses are noticeably prevalent.
How did the Muslim lands which a millennium ago were home to one of the most advanced culture in the world, fall so far behind in their cultural, economic and political development? How did this peaceful religion spawn a fundamentalism so extreme that it today is the main threat to international peace and stability? And perhaps more importantly, how can this tide be turned?
Perhaps to initiate the change in tide is first to change the way how Muslims think. It is important first of all to return to the sources and undertake a true clearing of the terminological ground, moving beyond rhetoric and simplistic appositions that are so quickly formulated by some theologians.
For while the orders of creed and worship - al-'aqīdah wa al-'ibādah - are subjected to the sole and ultimate authority of the revealed texts; the sphere of social affairs - al-mu'āmalat - is wide open for human intelligence and its creativity, based on some broad guidelines and general principles laid by the Qur'ān.
It is this freedom or liberty, which has been offered to human intelligence that has enabled Islamic civilization to produce the abundance of scientific and philosophical knowledge in the course of history. What in effect, in contemporary societies and apart from confused digressive discourse about religious and cultural pluralism, does the respect of dignity, welfare, freedom, equality, and justice mean for individuals within a given society?
Those are the higher objectives of Law and it is in their light and in their respect that, visions of society and the institution of common laws must be considered. This must begin with a thorough reflection from within about the meaning and understanding in aiming to fulfil the higher goals of the global message. The issue is complex; and the challenge is formidable.
Programs:
200-230PM: Registration
230-240PM: Opening Speech by Chairperson, Dr Julia Sveshnikova
240-250PM: Welcoming Speech by Dato' Redzuan Kushairi
250-300PM: Speech by Moderator, Ehsan Shahwahid
300-340PM: Speech by Dr Nader Hashemi
340-400PM: Intervener I: Dr Chandra Muzaffar
400-420PM: Intervener II: Zainah Anwar
420-440PM: Intervener III: Emeritus Professor Clive Kessler
440-530PM: Discussion
530PM: Tea
Biographies:
Dr. Nader Hashemi is a Professor and Director of the Center for Middle East Studies at the University of Denver's Josef Korbel School of International Studies. Born and raised in the Toronto area to Iranian parents, Dr. Hashemi completed his B.A., M.A., and Ph.D. in Canada. He obtained his Ph.D. from the University of Toronto and was a research affiliate at the Center for Middle Eastern Studies at Harvard University, a postdoctoral Fellow at Northwestern University, and a Global Fellow at the UCLA International Institute. He has contributed to The New York Times , TIME, The Wall Street Journal, CNN, and has appeared on The PBS Newshour. He is the author of Islam, Secularism, and Liberal Democracy, and co-editor of The Syria Dilemma and The People Reloaded: The Green Movement and the Struggle for Iran's Future. As an undergraduate student in Ottawa, Canada, Hashemi hosted a radio program. He is an avid swimmer and enjoys playing the guitar.
Dr. Chandra Muzaffar is both a social activist and an academic. He is the President of the International Movement for a Just World (JUST), an international NGO based in Malaysia, which seeks to critique global injustice and to develop an alternative vision of a just and compassionate civilization guided by universal spiritual and moral values. He has published extensively on civilizational dialogue, international politics, religion, human rights and Malaysian society.
Zainah Anwar is a founding member of Sisters in Islam (SIS) and currently the Director of Musawah, the global movement for equality and justice in the Muslim family. She is at the forefront of the women's movement pushing for an end to the use of Islam to justify discrimination against women. The pioneering work of SIS in understanding Islam from a rights perspective and creating an alternative public voice of Muslim women demanding equality and justice led it to initiate Musawah in 2009. This knowledge building movement brings together activists and scholars to create new feminist knowledge in Islam to break the binary between Islam and human rights and the disconnect between law and reality. Zainah also writes a monthly newspaper column on politics, religion and women's rights, called Sharing the Nation. She is a former member of the Human Rights Commission of Malaysia. Her book, Islamic Revivalism in Malaysia: Dakwah Among the Students, has become a standard reference in the study of Islam in Malaysia. Her other work experiences include: Chief Programme Officer, Political Affairs Division, Commonwealth Secretariat, London; Senior Analyst, the Institute of Strategic and International Studies, Kuala Lumpur; and Political and Diplomatic Writer, the New Straits Times, Kuala Lumpur. She was educated at the Fletcher School of Law and Diplomacy at Tufts University, Boston University, and the MARA Institute of Technology, Shah Alam, Malaysia.
Professor Clive S. Kessler is now Emeritus Professor of Sociology & Anthropology at the University of New South Wales, Sydney Australia, where he held a professorial position from 1980 to 2004. Before that he held academic positions at LSE and Barnard College, Columbia University, New York. He has been studying Malay culture, society, politics and religion since the mid-1960s. He also writes about multiculturalism, religion and democratic theory. He is especially interested in the divergent evolutionary development (doctrinal, political and social) of the three forms of Abrahamic ethical-prophetic monotheism (Judaism, Christianity and Islam), in the long-term patterns of historical interrelations between the three civilizations born within these faith communities, and with the way and extent to which those intercivilizational dynamics have provided the contours of much of world history. His more general work centres on the question of modernity and its varying cultural forms and diverse civilizational expressions. He has held visiting positions at and maintains close connections with several Malaysian universities. His contributions to scholarship have been recognized in his election as a Fellow of the Academy of the Social Sciences in Australia.
Ehsan Shahwahid is a Program Manager at the Islamic Renaissance Front. He is also a social researcher at Merdeka Center for Opinion Research. He has undergone his Islamic religious education in community and national schools, before completing his Bachelor Degree in Mechanical Engineering, and completed his Master Degree in 2016 the from National University Malaysia (UKM) in Social Science focusing on the Sociology of Religion. He has also worked in several advocacy projects related to religious freedom with Projek Dialog and BFMRadio. He was a fellow with the American Council of Young Political Leaders (ACYPL) in 2014 in a fellowship program to promote freedom of religion. He is committed to study the relations between religion and society, and realizes the need for a more sophisticated understanding and approach among scholars in dealing with the problems and challenges relating to religion towards progress and development for the benefit of all human societies.
---