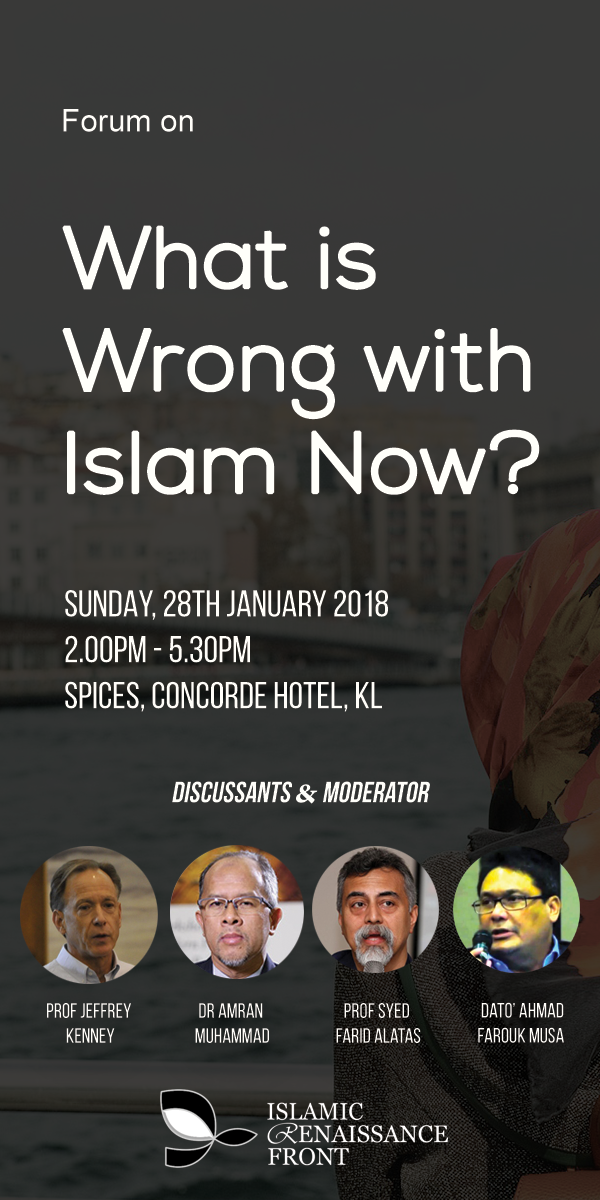 Date: Sunday, 28th January 2018
Time: 2PM - 530PM
Venue: Spices, Concorde Hotel, KL
Discussants:
Prof Jeffrey Kenney, DePauw University, Indiana, US
Dr Amran Muhammad, Islamic & Strategic Studies Institute (ISSI)
Prof Syed Farid Alatas, National University of Singapore
Moderator:
Dato' Dr Ahmad Farouk Musa
Register at: https://www.eventbrite.com/e/forum-on-what-is-wrong-with-islam-now-tickets-41920365943
Islam once used to be champion of civilization and science. Something went wrong. First, the decline of the Islamic scientific heritage and rise of anti-rationalist Ash'arite school. It's champion Abu Hamid al-Ghazali (late 11th early 12th century) was probably the most influential scholar who started the ball rolling backward. Islam has never recovered since.
But things get worse in the 21st Century with the revisionist school of thought. This school which is championed by the literalist Salafists marketed the idea that the perfect way of life is to be found back in time. Meaning that if you wish to prosper, instead of progressing, try to live the way they lived in 7th century Arabia. This nostalgic romantic view of how perfect the world was some thousand and a half year ago seemed to be the predominant theme. As a result, instead of progressing, Muslims are encouraged to try and regress to those "glory days". Romanticising the Caliphate is one of its manifestations.
This school of thought is backed by petrodollars, and these people are the kings of mass marketing. Whether we go to the east or the west, these people fund mosques, madrasas, Islamic centers, preachers, TV networks, written materials with billions of dollars to ensure that they get to make their interpretation the default understanding of what Islam is. And somehow or rather, this school of thinking runs deep in today's radical Islam.
But could this be the main reason for the chaos we are witnessing in the Muslim world today? This forum will try to discuss and debate this issue and what had possibly caused this tragedy. 
Programs:
200-230PM:   Registration
230-240PM:  Opening Speech by Chairperson, Ehsan Shahwahid
240-250PM:  Speech by moderator, Dato' Dr Ahmad Farouk Musa
250-330PM:   Speech by Prof Jeffrey Kenney
330-400PM:   Intervener I: Dr Amran Muhammad
400-430PM:   Intervener II: Prof Syed Farid Alatas
430-530PM:   Discussion
530PM         :   Tea
Organized by: Islamic Renaissance Front
Speakers' Biographies:
Prof Jeffrey Kenney is a Professor of Religious Studies at Depauw University, Indiana, US. He is an expert on Religious discourse, Comparative religion, Modern Islam, Islamism, Religion and politics in the Muslim world, Radical religious groups in the Middle East. His areas of special interest and study are Modern Islam in Egypt, religious interpretations in modern contexts, ways religion interacts with secularization, and how people talk about Islam in contexts that don't seem to be religious (i.e., using Islam to facilitate something else). Kenney is author of books about militant Islamism in Egypt, and religion-state relations in Egypt. Following a 2012-13 Fulbright award to do research in Malaysia, he is writing a book about teaching comparative religion in Malaysia.
Dr Amran Muhammad is the Founder and Chief Executive of the Islamic and Strategic Studies Institute (ISSI) based in Kuala Lumpur, Malaysia and the Southeast Asia Director of Kalam Research and Media (KRM) based in Abu Dhabi, UAE. He received BSc in Economics from University of Alabama, USA, MA in Islamic History and Philosophy of Science from the International Institute of Islamic Thought and Civilisation (ISTAC, Kuala Lumpur) and PhD in Science and Technology Policy from the Centre for the History of Science, Technology and Medicine, University of Manchester, UK. He is currently leading the Islamic Analytic Theology (Kalam) Revival Initiative in Malaysia in collaboration with various Malaysian Universities focusing on the re-establishing analytical, logical and systematic approach to understand religion and its relations to the advancement of knowledge. This Malaysian initiative complements the 9-year project of the Global Islamic Analytic Theology between Kalam Research and Media (KRM) and the John Templeton Foundation (USA) starting from 2013. Prior to this, he had been selected as the Malaysian National Research Partner for the Atlas of Islamic World - Science and Innovation under the Royal Society of United Kingdom and the Organization of Islamic Conference (OIC) from 2009-2012. While serving the University of Malaya, Kuala Lumpur from 1998-2013, he was Head of the Department of Science and Technology Studies and Deputy Director of the University Malaya's Centre for Civilisational Dialogue.
Professor Syed Farid Alatas is currently Professor of Sociology at the National University of Singapore (NUS). Prior to joining NUS, he has lectured at the University of Malaya in the Department of Southeast Asian Studies and later headed the Department of Malay Studies in NUS from 2007 to 2013. His areas of interest are the sociology of Islam, Orientalism in the social science, the sociology of Islam, and intra- and inter-religious dialogue. He has written widely on these areas as well as that of Muslim societies in the region and abroad. His most recent books include Ibn Khaldun (Oxford University Press, 2013) and Applying Ibn Khaldun(Routledge, 2014), and (with Vineeta Sinha) Sociological Theory Beyond the Canon (Palgrave Macmillan, 2017)
Dato' Dr Ahmad Farouk Musa is a Chairman and Director of the Islamic Renaissance Front, an intellectual movement and think-tank promoting reform and renewal in Islam, democracy, good governance and human rights. He is actively involved in civil society and the emerging discourse on post-Islamism. He is also involved in interfaith dialogues especially with regard to Christian-Muslim relations and intra-faith dialogues especially the Shi'i-Sunni discourse. He has presented papers at numerous international meetings including the latest at the Symposium on Islam and Contemporary Issues in Tehran, Iran, in March 2017.  Professionally, he is an academic at the School of Medicine, Monash University Malaysia and a trained Cardiothoracic Surgeon. He is currently a Commissioner at the Commonwealth Initiative for the Freedom of Religion or Belief (CIFoRB) based in Westminster, London. He is also a Director at the Centre for Combating Corruption and Cronyism (C4) and was recently appointed as a Research Fellow at Sekolah Tinggi Filsafat Islam Sadra (STFI Sadra), Jakarta, Indonesia. He was a former Deputy-Chairperson of BERSIH 2.0, a strong civil movement working for a free and fair election.
---