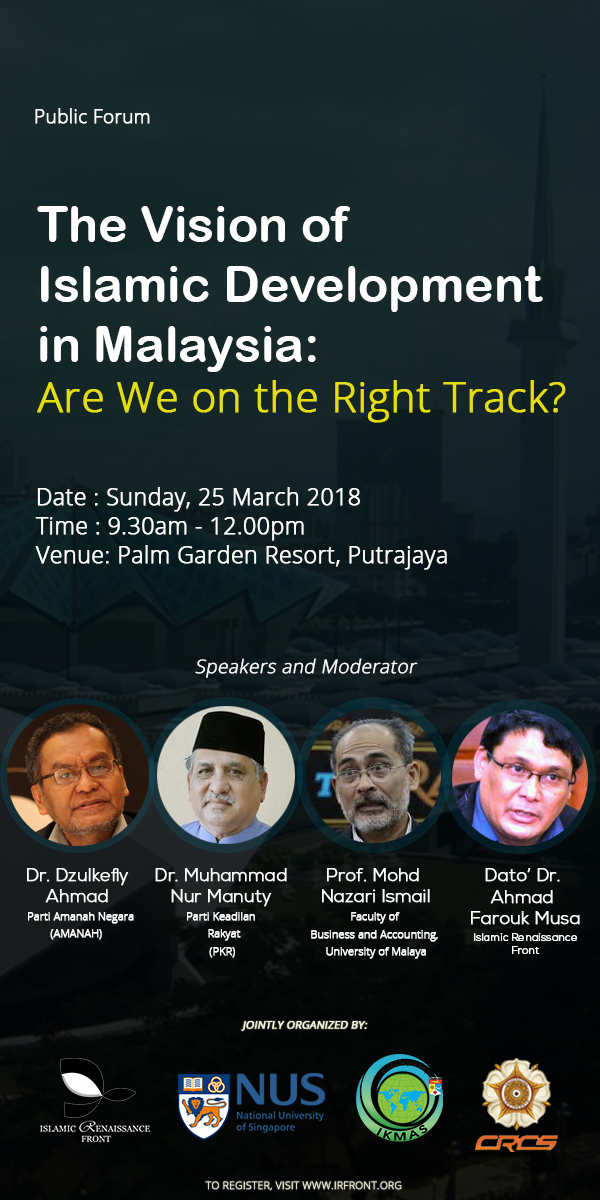 Date: Sunday, 25th March 2018
Time: 9.30AM – 12.00PM
Venue: Palm Garden Resort, Putrajaya
Panelists:
Dr. Dzulkefly Ahmad (Parti Amanah Negara),
Dr. Muhammad Nur Manuty (PKR),
Prof. Mohd Nazari Ismail (UM).
Moderator:
Dato' Dr. Ahmad Farouk Musa, Islamic Renaissance Front (IRF)
Register: https://www.eventbrite.com/e/forum-the-vision-of-islamic-development-in-malaysia-are-we-on-the-right-track-tickets-44318132728
In Malaysia, we are always proud to claim to be among the more developed of Muslim nations, including on matters related to Islam. Since our independence, the development of Islam in Malaysia has evolved through rapid modernisation and advance institutionalisation. The process of development was highly influenced by the various authorities of Islam in the country.
For the past two decades, mainly driven by the Department of Islamic Development of Malaysia, or better well known as JAKIM, who holds a vision as to be the main agency to drive the success of the management of Islam in Malaysia towards the year 2020. This vision is to be achieved through a mission to drive transformation of the management of Islam through empowering Islamic agencies, strategically and innovatively for the best of benefits to the nation. On top of the authority given, the Federal Government in 2018 announced a total budget totalling more than RM1 billion, and more than 3,500 officials to supervise and coordinate the development of Islam in the country. In 2015, JAKIM produced a "Strategic Plan for Islamic Development 2015 - 2019", which covers 7 core themes; Islamic law, R&D, strategic collaboration, Islamic understanding, Halal development, Islamic education, and organisational service. Looking at the current time, JAKIM has affectively played its role in implementing its mission along with the other associated agencies in meeting their goals of the development of Islam.
However, the operations by JAKIM in developing Islam in the country have been no short of critics. There have been complaints and allegations of over-regulations to the freedom of expression, religion and intellectual freedom, increasing dogmatisation of Islamic teachings, and increasing limitations to the rights of minority religious groups, not only among non-Muslims, but even more towards Muslims. Thus, the current trends have led us to raise an important question, whether the development of Islam and Muslims in Malaysia at the current time is on the right track? Have we touched on the important priorities and the higher objectives of Islam in our development plan? Could there be alternative ideas on Islamic development that we may have missed? This forum serves as a platform to discuss this topic and related questions further, in good faith, for the future development of Islam, and for the benefit of all Malaysians, Muslims and non-Muslims alike.
Programs:
AM
9.00 - 9.30     :   Registration
9.30 - 9.35     :   Opening speech by Ehsan Shahwahid, Islamic Renaissance Front (IRF)
9.35 - 9.45     :   Speech by moderator, Dato' Dr. Ahmad Farouk Musa, Islamic Renaissance Front (IRF)
9.45 - 10.10   :   Speech by Dr. Dzulkefly Ahmad (Parti Amanah Negara)
10.10 - 10.35 :   Speech by Dr. Muhammad Nur Manuty (PKR)
10.35 - 11.00 :   Speech by Prof. Mohd Nazari Ismail (UM)
11.00 - 12.00 :   Discussion
12.00pm        :   Lunch & Zuhur Prayer
Organized by:
Islamic Renaissance Front
Speakers' Biographies:
Prof Mohd Nazari Ismail is professor at the Faculty of Business and Accounting, University of Malaya, Kuala Lumpur and a former dean of the faculty until Jun 2015. He has published numerous articles in local and international journals and has also authored five books. He has also consulted as well as provided training programmes to a number of public and private sector organizations including The Prime Minister's Department of Malaysia, Proton, Matsushita, The Royal Malaysian Police, and the Malaysian Institute of Chartered Secretaries and Administrators. He was the 1999 Fulbright Foundation Malaysian Scholar at the University of Michigan, Ann Arbor, USA and also the Fulbright Visiting Specialist at Pfeiffer University, North Carolina, USA in 2005. In June 2005, he was a visiting fellow at Oxford Center for Islamic Studies, Oxford, United Kingdom. Prof. Mohd Nazari Ismail obtained his B.Sc. Economics (Hon.) from the University of Wales, U. Kingdom, followed by an MBA from the State University of New York, USA and a PhD from the Manchester Business School, University of Manchester, United Kingdom.
Dr. Dzulkefly Ahmad is the Strategy Director of Parti Amanah Negara (AMANAH), an Islamist Democrat and former MP for Kuala Selangor. He was a trained Toxicologist from the Imperial College, UK. He has alos authored Striving For Change (The Blindspot Series) (2012) and Najibnomics: Rahmat Atau Malapetaka? (2016). Dr Dzulkefly was a former Director for PAS Research Center and an executive member for PAS. He is a prominent Islamist leader that promotes Islamist Democrat agenda even while in PAS before.
Senator Dr Muhammad Nur Manuty is the Senator for Selangor State Legislative Assembly. He is the former President of Muslim Youth Movement of Malaysia (ABIM) and was the Deputy President of Wadah Pencerdasan Umat (WADAH). Before he joined politics, Dr Manuty was the Associated Professor in the Department of Usuluddin and Comparative Religion in the International Islamic University of Malaysia (IIUM) from 1995-99. He also worked as Consultant on Islamic Education, Darul Arqam, Singapura; Director for CESMACS, Kuala Lumpur; pert-time lecture at the Kolej Darul Hikmah, Kajang; and he also a visitor scholar for Markfield Institute of Higher Education, Leicester, UK. Now, he is the Chairman for Bureau of Islamic Understanding for People's Justice Party (PKR) and also the Religious Policy Officer for Dato' Menteri Besar Selangor's Office.
---