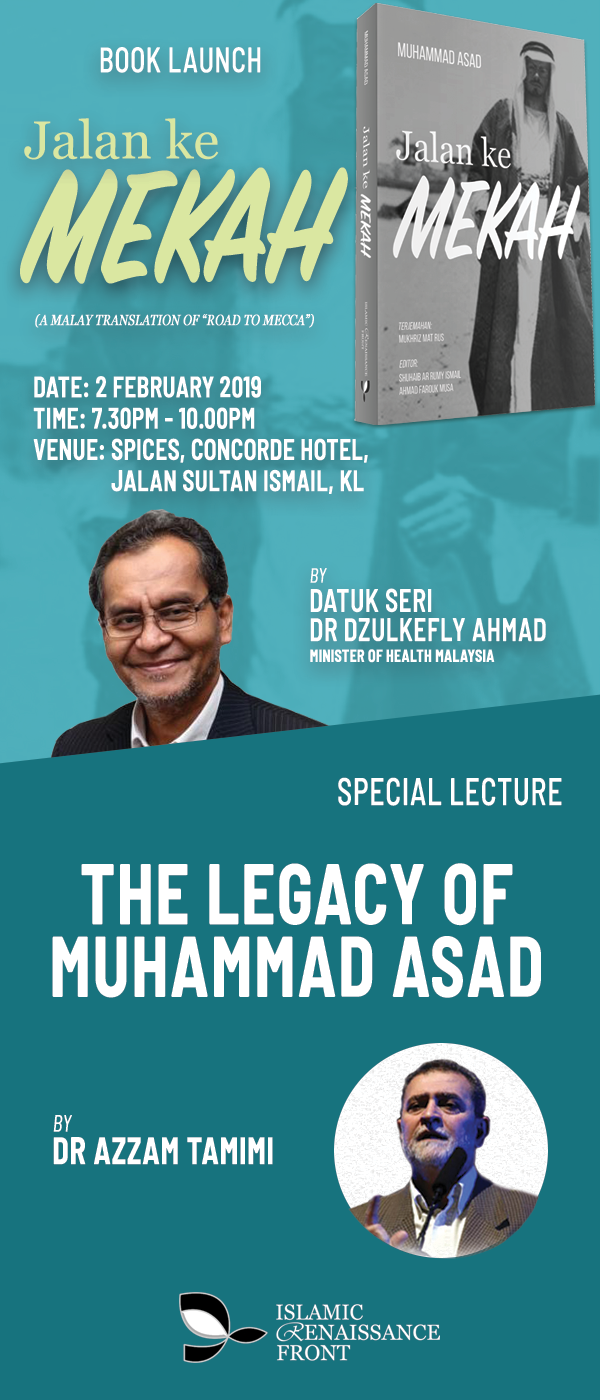 Date: Saturday, 2nd February 2019
Time: 730PM – 1030PM
Venue: Spices, Concorde Hotel, Kuala Lumpur 
Launching by
YB Datuk Seri Dr Dzulkefly Ahmad
Minister of Health Malaysia
Special Lecture on "The Legacy of Muhammad Asad"
By Dr Azzam Tamimi
Director, Institute of Islamic Political Thought (IIPT)
Register at: https://www.eventbrite.com/e/book-launch-jalan-ke-mekah-translation-of-road-to-mecca-by-muhammad-asad-tickets-54214172048
Buried in the small Muslim cemetery in Grenada in Spain is one Muhammad Asad, one of the most prominent Muslim thinkers of the twentieth century. He was born Leopold Weiss in Lviv, Galicia now in Ukraine, the son of a Jewish barrister and grandson of an orthodox rabbi. He studied history of art and philosophy at Vienna University then went to Prague and later Berlin. Invited to Jerusalem by his uncle, Dorian Weiss, a prominent psychiatrist and early pupil of Freud. He encountered the Zionist Committee of Action but from the outset conceived a strong objection to Zionism an objection which he personally conveyed to Dr Chaim Weizman, the leader of the Zionist movement. He became a correspondent for Die Frankfurter Zeitung, making a name for himself with dispatches from Palestine.
He travelled extensively in the Mashreq and Maghreb. The turning point came in 1926 when he converted to Islam. Asad enjoyed a close friendship with King Ibn Saud. His love affair with Arabia was more intense than those of his European predecessors. After more travelling, Asad went to British India and befriended Muhammad Iqbal, the spiritual father of the idea of a separate Pakistan, whom he admired greatly. Iqbal persuaded Asad to abandon plans to travel to eastern Turkestan, China and Indonesia and to help elucidate the intellectual premises of the future Islamic state.
After an absence of 25 years from the West, Asad came to Paris and then to New York in early 1952, serving as Pakistan's Minister Plenipotentiary to the United Nations. His spiritual autobiography,The Road to Mecca (1954), which the Times Literary Supplement called "a narrative of great power and beauty," covered the first half of his life, including a journey in the summer of 1932 into the Empty Quarter of the Arabian Desert, which confirmed his conversion to his new belief, and a conscious, wholehearted allegiance from one cultural environment to another.
The Road to Mecca is a book about the travel and the journey of one man through the geographical roads of the material earth, as well as the intellectual and spiritual odyssey he makes through the hills and plains of his own soul. Both journeys culminate in one place: Mecca - where he stays for some years having found the spiritual and intellectual contentment there which had eluded him in Europe.
However, Asad's chief ambition was to translate the Qur'an into English. First Switzerland and then Morocco provided the setting for the preparation of his magnum opus, The Message of the Qu'ran (1980), dedicated to "people who think." In its intellectual engagement with the text and in the subtle and profound understanding of the pure classical Arabic of the Qur'an, Asad's interpretation is of power and intelligence without rival in English.
Programs:
700 – 800PM:       Solat and tea
800 – 810PM:       Welcoming speech by Elma Berisha
810 – 830PM:       Speech by Dato' Dr Ahmad Farouk Musa
830 – 900PM:       Speech and Launching by Datuk Seri Dr Dzulkefly Ahmad
900 – 1000PM:     Special Lecture by Dr Azzam Tamimi on The Legacy of Muhammad Asad
1000 – 1030PM:   Discussion
1030PM:               End
Organized by:
Islamic Renaissance Front
---