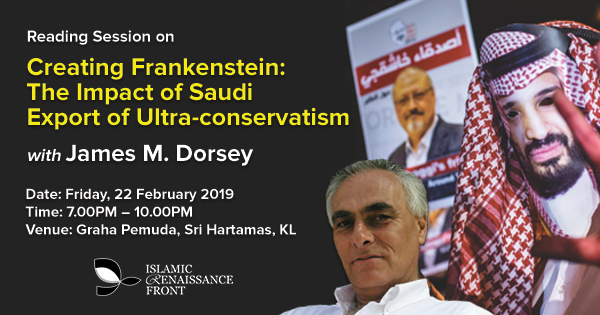 Date: Friday, 22nd February 2019
Time: 7PM – 10PM
Venue: Graha Pemuda, Sri Hartamas, Kuala Lumpur
Register at: https://www.eventbrite.com/e/reading-session-on-creating-frankenstein-the-impact-of-saudi-export-of-ultra-conservatism-with-tickets-56317254424
Saudi crown prince Mohammed bin Salman has positioned himself as a social and economic reformer by lifting the ban on women's driving, enhancing women's professional and leisure opportunities and creating a modern entertainment industry. Yet, even if one leaves aside stepped up repression and the killing of journalist Jamal Khashoggi, a closer look at the prince's moves suggest that he is making less of a clean break with ultra-conservative Islam than meets the eye. This is particularly true on the frontlines of the kingdom's confrontation with Iran where support for ultra-conservative and/or militant groups is still the name of the game.
To be sure, Prince Mohammed has significantly cut back funding for ultra-conservative groups worldwide and surrendered control of the Grand Mosque in Brussels in the wake of severe criticism of its Saudi management. But at the same time, Saudi Arabia supports Salafi groups in Yemen and recently said that it would open a Salafi missionary centre in the Yemeni province of Al Mahrah on the border with Oman and the kingdom. Saudi Arabia's ill-fated military intervention in Yemen was sparked by its conflict with Iranian-backed Houthi rebels, a Zaydi Shiite Muslim sect with roots in a region bordering the kingdom, that dates to Saudi employment of Salafism to counter the group in the 1980s and early this century.
Elsewhere, Pakistani militants reported that Saudi nationals of Baloch origin were funnelling large amounts of money into militant madrassas in the Pakistani province of Balochistan on the border with Iran. Saudi-funded ultraconservative Sunni Muslim madrassas operated by anti-Shiite militants dominate the region's educational landscape. The money flowed, although it was not clear whether the Saudi donors had tacit government approval, at a time that Saudi Arabia is toying with the idea of seeking to destabilize Iran by stirring unrest among its multiple minorities, including the Baloch.
At the bottom line, there appears to be little flesh on the skeleton of Prince Mohammed's declared effort to promote an undefined form of moderate Islam. The track record is so far one of whipping the kingdom's ultra-conservative religious establishment into submission, incarcerating more reformist religious voices and shaving off the rough edges of Saudi ultra-conservatism in an effort to ensure regime survival through upgrading religious and political autocracy.
About the Authors
Dr James M. Dorsey is a Senior Fellow at the S. Rajaratnam School of International Studies at Singapore's Nanyang Technological University, a syndicated columnist and the author of the blog, The Turbulent World of Middle East Soccer. A veteran, award-winning foreign correspondent whose career focused on ethnic and religious conflict, James focuses at RSIS on political and social change in the Middle East and North Africa, the impact of change in the Middle East and North Africa on Southeast and Central Asia and the nexus of sports, politics and society in the Middle East and North Africa and Asia.
Program
700-800PM:    Dinner and Solat
800-810PM:    Introduction by the Chairperson, Elma Berisha
810-900PM:    Presentation by Dr James Dorsey
900-10PM:     Discussion
Organized by: Islamic Renaissance Front
---