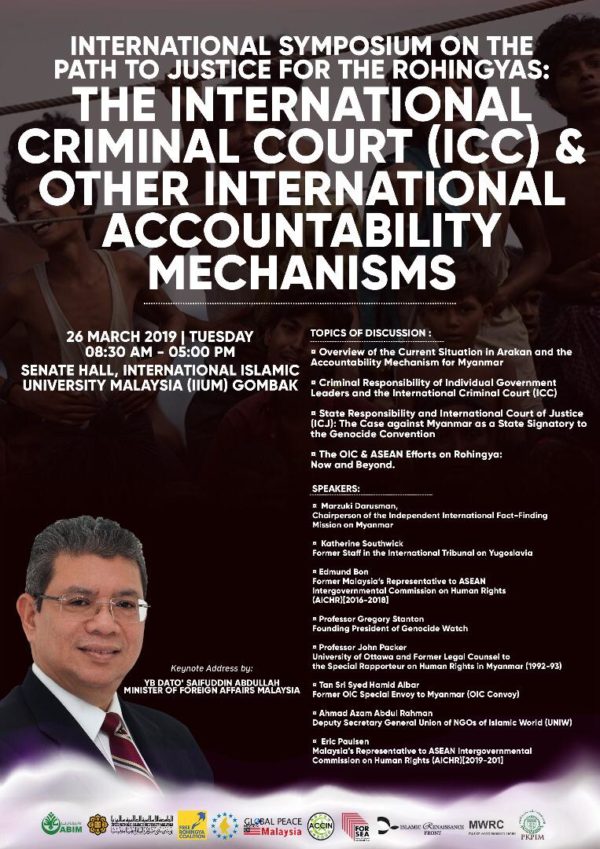 Date: Tuesday, 26th March 2019
Time:  830AM – 530PM
Venue: Senate Hall, International Islamic University of Malaysia (IIUM), 50728 Kuala Lumpur
Welcoming address by Tan Sri Professor Dr Dzulkefly Abdul Razak
Rector, International Islamic University of Malaysia
Keynote address by YB Dato' Saifuddin Abdullah
Minister of Foreign Affairs Malaysia
Background
The United Nations has described the crisis in Myanmar as a "textbook example of ethnic cleansing". Since 2017, more than 700,000 Rohingyas have fled to Bangladesh due to the extreme violence of massacre, rape and arson by Buddhist monks in the Rakhine State. In the camps of Cox's Bazar, they joined another 200.000 refugees who have fled earlier. And slightly more than half of them are children.
Yet since then, General Min Aung Hlaing and other military leaders have escaped any legal censure. Both the military leaders and the Nobel Peace Prize laureate leader, Aung San Suu Kyi, have maintained a campaign of denial and avoidance. And in fact, some reporters who have documented the egregious abuse of human rights were intimidated and jailed. Suu Kyi put the blame on the terrorist activities that caused the humanitarian crisis in Rakhine. But somehow, human rights group have documented how the nation's military have dispatched hundreds of soldiers, weeks before the said insurgent strike. And part of their strategy has been the practice of razing whole Rohingya villages and levelling the villages. This is essence is, a strategy to erase history: the history of the Rohingyas of Arakan.
Without doubt, the situation in the Rohingyas is the "world's fastest growing refugee crisis" which has been affirmed by the United Nations. Most Rohingyas that reached Bangladesh have sought shelter mainly in the Kutupalong and Balukhali. There were more than 700,000 refugees who live in the camps while more than another 100,000 refugees stay outside the camps among the host communities. Many of them are suffering from psychosocial conditions and physical illnesses that spread easily in overcrowded and unhygienic camps. Diarrhoea and respiratory infections are common in both adults and children. Worse is that only less than three percent of children were immunized, so they are vulnerable to preventable diseases such as measles and diphtheria. But more gruesome is of course, the history of sexual violence. More than half of the refugee population is either a witness or a survivor of sexual violence. They need support for their mental health apart from the physical health and security.
Aims
To raise awareness of the plight of the Rohingyas and the unfolding humanitarian crisis;
To encourage the Government of Malaysia to play a more active role pressuring the government of Myanmar and in particular to assist in alleviating the suffering Rohingya refugees at home and abroad; and
To encourage Malaysians and civil society groups to help raise funds for humanitarian assistance to the Rohingyas.
To deliver a Declaration on the Rohingyas to the Prime Minister.
Register at: https://www.eventbrite.com/e/international-symposium-on-the-path-to-justice-for-the-rohingyas-the-international-criminal-court-tickets-59148135666
Organized by:
Angkatan Belia Islam Malaysia (ABIM)
In Collaboration with:
Global Peace Mission Malaysia
International Islamic University Malaysia
FORSEA (Forces of Renewal Southeast Asia)
Islamic Renaissance Front (IRF)
Free Rohingya Coalition
EBO Myanmar (EURO Burma)
Allied Coordinating Committee of Islamic NGO (ACCIN)
Muslim World Research Centre (MWRC)
National Association of Muslim Students of Malaysia (PKPIM) 
PROGRAMS
0830 – 0900

Registration
0900 - 0910

Opening speech by

Ahmad Fahmi Mohd Samsudin,

Vice President of ABIM

0910 - 0920

Welcoming speech by

Tan Sri Prof. Dr. Dzulkifli Abd Razak

Rector, International Islamic University of Malaysia

0920 – 0940

Keynote address by

YB Dato' Saifuddin Abdullah,

Minister of Foreign Affairs Malaysia

0940 – 0950

Book launch

"Rohingya : Bantu atau Bantai'

0950 – 1010
Coffee Break (Press Conference)
1010 – 1040

Session 1: Overview of the Current Situation in Arakan and the Accountability Mechanism for Myanmar

 

Marzuki Darusman, Chairperson of the Independent International Fact-Finding Mission on Myanmar

1040 – 1200

Session 2: Criminal Responsibility of Individual Government Leaders and the International Criminal Court (ICC)

 

Moderator: Ms Khin Mai Aung  JD (UC Berkeley) and Free Rohingya Coalition

Expert speakers:

Katherine Southwick, Visiting Scholar at George Mason University's School for Conflict Analysis and Resolution

Edmund Bon, Former Malaysia's Representative to ASEAN Intergovernmental Commission on Human Rights (AICHR)[2016-2018]

1200 – 1330

Session 3:   State Responsibility and International Court of Justice (ICJ):  The Case against Myanmar as a State Signatory to the Genocide Convention

 

Moderator: Dr Maung Zarni, Coordinator of Strategic Affairs The Free Rohingya Coalition

Expert speakers:

Professor Gregory Stanton, Founding President of Genocide Watch

Professor John Packer, University of Ottawa and Former Legal Counsel to the Special Rapporteur on Human Rights in Myanmar (1992-93)

1330 – 1500
Lunch & Zuhur prayer
1500 – 1700

Panel Session 4:   The OIC & ASEAN Efforts on Rohingya: Now and Beyond.

 

Moderator: Muhammad Faisal Abdul Aziz, Secretary General ABIM

Expert speakers:

Tan Sri Syed Hamid Albar, Former OIC Special Envoy to Myanmar (OIC Convoy)

Ahmad Azam Abdul Rahman, Deputy Secretary General Union of NGOs of Islamic World (UNIW)

Eric Paulsen Malaysia's Representative to ASEAN Intergovernmental Commission on Human Rights (AICHR)[2019-201]

1700 – 1730

1730

 Symposium Declaration

Coffee break & Program Ends
Speakers' Profile:
YB Dato' Saifuddin Abdullah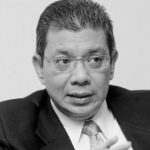 YB Dato' Saifuddin Abdullah is the Malaysian Minister of Foreign Affairs. He serves as Chief Secretary of Pakatan Harapan Secretariat and Chairman of Youth Academy. Previously, he was CEO of Global Movement of Moderates (GMM), Deputy Minister of Higher Education, Member of Parliament for Temerloh and Member of UMNO Supreme Council. He is a progressive politician who advocates the idea of New Politics, youth empowerment and social entrepreneurship. He is also actively promoting debate and basketball. Before joining politics, he was President of the Malaysian Youth Council, Member of the United Nations Secretary General's High-Level Panel on Youth Employment, Consultant of the Economic and Social Commission for Asia and the Pacific (ESCAP) and a student activist. Dato' Saifuddin has published six books and is columnist at Sinar Harian, The Edge Malaysia and Sin Chew Daily.
Mr. Marzuki Darusman (Indonesia)


Mr Marzuki Darusman is a lawyer and human rights campaigner who served as Special Rapporteur on the situation of human rights in the DPRK (2010-2016) and member of the Commission of Inquiry on Human Rights in North Korea (2013 to 2014). Prior to that he served as a member of the International Independent Group of Eminent Persons for Sri Lanka, and has served as Chair of the Indonesian National Human Rights Commission as well as Attorney General of the Republic of Indonesia 1999 to 2001. In 2010, he was assigned to serve as Chair of the UN Secretary General's Panel of Experts on Sri Lanka and in 2009 he was appointed by UN Secretary General Ban Ki-Moon to a three-member UN Commission of Inquiry to investigate the assassination of former Pakistani Prime Minister Benazir Bhutto.
Professor John Packer


Professor John Packer is also an experienced practitioner bringing to the University of Ottawa some 20 years working for inter-governmental organizations, including in Geneva for the UN High Commissioner for Refugees, the International Labour Organisation, and for the UN High Commissioner for Human Rights investigating serious human rights violations in Iraq, Afghanistan, Burma/Myanmar, extrajudicial executions, arbitrary detention, forced disappearances, the use of forensic sciences, the use of civil defense forces, and the independence of judges and lawyers throughout the world. From 1995 to 2004, he was Senior Legal Adviser and then the first Director of the Office of the OSCE High Commissioner on National Minorities in The Hague working across Central and Eastern Europe and throughout the former Soviet Union. For the last two years, Prof. Packer was a Constitutions and Process Design Expert on the United Nation's Standby Team of Mediation Experts attached to the Department of Political Affairs, advising in numerous peace processes and political transitions around the world focusing on conflict prevention and resolution, diversity management, constitutional and legal reform, and the protection of human rights including minorities.
Katherine Southwick


Katherine Southwick is a Visiting Scholar at George Mason University's School for Conflict Analysis and Resolution. Previously based in Washington, D.C. and Manila, Philippines, she designed and helped to implement legal reform programs in Southeast Asia and the Pacific through the American Bar Association Rule of Law Initiative. She provided technical assistance on judicial reform, anti-trafficking in persons, the ASEAN human rights system, and program monitoring and evaluation. After earning her J.D. from Yale Law School, Katherine worked in private practice and clerked for a federal judge.  She was awarded the Robert L. Berenstein Fellowship to devote a year to research and advocacy on the global problem of statelessness. She has also worked for the U.S. State Department, Formerly of the Office of Prosecutor, International Tribunal for Yugoslavia, and human rights organizations in New Delhi, India and Kampala, Uganda.
Tan Sri Datuk Seri Syed Hamid bin Syed Jaafar Albar


Tan Sri Datuk Seri Syed Hamid bin Syed Jaafar Albar was a senior Malaysian government minister in the 1990s and 2000s. He was the Minister for Home Affairs (2008–2009), Minister for Foreign Affairs (1999–2008), Minister for Defence (1995–1999) and Minister for Justice (1990–1995). He was a member of the Parliament of Malaysia from 1990 to 2013, representing the seat of Kota Tinggi, Johor, for the United Malays National Organisation (UMNO). Presently he is a member of Malaysian United Indigenous Party or Parti Pribumi Bersatu Malaysia (BERSATU), a component of Pakatan Harapan (PH) ruling coalition since he quitted UMNO to join PPBM on September 2018.
Maung Zarni


Maung Zarni is a non-resident fellow with the Sleuk Rith Institute, Permanent Documentation Centre (of Genocide) in Cambodia, specializing in "Buddhist" racisms and state crimes in Asia. He has been a human rights activist, particularly on his native country of Burma, for nearly 30 years and has written extensively on Burmese affairs.  He was educated at the universities of California (Davis), Washington and Wisconsin (Madison). Zarni has taught and/or held academic, research and visiting fellowships at universities in N. America, Europe and Asia, including Harvard, Oxford, LSE and UCL Institute of Education, University of Malaya and University Brunei Darussalam.
Khin Mai Aung


Khin Mai Aung, JD, is the Director of the Educational Equity Program at the Asian American Legal Defense and Education Fund (AALDEF) in New York City, NY. AALDEF's Educational Equity Program advocates on issues such as bilingual education, language access, bias-based harassment, school discipline, post 9-11 and gang profiling, affirmative action, and school integration in kindergarten through 12th grade and higher education. Under Ms. Aung's direction, AALDEF launched the first National Asian American Education Advocates Network with affiliates across the country, and filed Supreme Court amicus briefs supporting affirmative action, school integration and English Language Learner rights. Among her most notable achievements for individual clients, Ms. Aung won reinstatement for three Massachusetts teachers fired after discriminatory English fluency testing, and overturned the suspension of an Iowa honors student who protested her misclassification as an English Language Learner. Previously, she was the Director of Policy and Civic Engagement at Youth Leadership Institute, a Staff Attorney at Asian Law Caucus, and an Associate at Morrison and Foerster. Ms. Aung is a graduate of the University of California at Berkeley School of Law, and received her undergraduate degree from Georgetown University.
Gregory H. Stanton


Gregory H. Stanton is the Research Professor in Genocide Studies and Prevention at the George Mason University in Fairfax County, Virginia, United States. He is best known for his work in the area of genocide studies. He is the founder (1999) and president of Genocide Watch, the founder (1981) and director of the Cambodian Genocide Project, and the founder (1999) and Chair of the Alliance Against Genocide. From 2007 to 2009 he was the President of the International Association of Genocide Scholars.
 Mr Ahmad Azam Abdul Rahman


Mr Ahmad Azam Abdul Rahman is the Chairman of Global Peace Malaysia, GPM, a Humanitarian Mission across Borders. He is also the President of the consortium of 77 NGOs. He is also a Member, founding Executive Committee Member of the Union of World Islamic NGOs. In addition, he is the Board Member of Kuala Lumpur Society for Transparency International. He is an Executive Committee Member of the International Movement of Just World. He was the member of Malaysian Youth Consultative Council appointed by Youths and Sports Ministry. He was the President of ABIM, Malaysian Muslim Youth Movement.
Mr. Eric Paulsen


Mr. Eric Paulsen is the Malaysia's Representative to ASEAN Intergovernmental Commission on Human Rights (AICHR)[2019-201]. He is co-founded Lawyers for Liberty—a leading human rights organization in Malaysia—and was an Adviser to the organization until becoming its Executive Director from 2014 to June 2018. He represented human rights defenders, government-opposition activists, and elected representatives in numerous criminal and strategic litigation cases on freedoms of speech and assembly. He has also represented families in custodial death cases. Mr. Paulsen also previously worked at Suara Rakyat Malaysia (SUARAM)—another leading human rights organization in Malaysia—and was involved in civil society movements in the country to abolish the Internal Security Act (Gerakan Mansuhkan ISA), the Sedition Act (Gerakan Hapuskan Akta Hasutan), and the National Security Council Act (#TakNakDiktator). He previously worked with U.N. agencies in Cambodia, Bangladesh, Nepal, and Myanmar.
Edmund Bon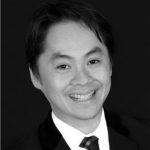 Edmund Bon is a former Malaysia representative to the ASEAN Intergovernmental Commission on Human Rights (AICHR) [2016-2018]. Edmund read law at University College London, and was called to the English Bar (Lincoln's Inn) in 1997. He was admitted as an advocate and solicitor of the High Court of Malaya in 1998, and has been in active practice since then. Edmund is a Chevening scholar and has a Masters degree from Oxford University.
Organized by:
Angkatan Belia Islam Malaysia (ABIM)
In Collaboration with:
Global Peace Mission Malaysia
International Islamic University Malaysia
FORSEA (Forces of Renewal Southeast Asia)
Islamic Renaissance Front (IRF)
Free Rohingya Coalition
EBO Myanmar (EURO Burma)
Allied Coordinating Committee of Islamic NGO (ACCIN)
Muslim World Research Centre (MWRC)
National Association of Muslim Students of Malaysia (PKPIM) 
Media Partner:
Free Malaysia Today
To donate to the humanitarian aid fund for Rohingya by Global Peace Mission Malaysia:
Maybank: 5642 2161 1602
Bank Islam: 1402 3010 02922 4
Ref: Rohingya
Email: [email protected]
---