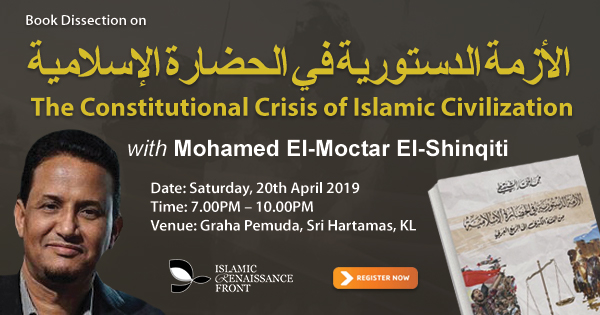 Date: Saturday, 20th April 2019
Time: 7PM – 10PM
Venue: Graha Pemuda, Sri Hartamas, Kuala Lumpur
Register at: https://www.eventbrite.com/e/book-dissection-on-the-constitutional-crisis-of-islamic-civilization-with-mohamed-el-moctar-el-tickets-59873946586
About the Book
This book researched into the political legitimacy of the Islamic Civilization, that has utilized the texts of revelation and the historical experience of the Muslims as the main aim in alleviating them from their political crisis.
The realms of politics are multi-layered and have been elaborated with certain details in a few verses of the Qur'an and hundreds of authentic hadith of the Prophet. Unfortunately, the principles in politics which are replete with religious texts are still scarce as compared to what have been applied institutionally and executed in the history of Muslim civilization.
What is meant by the constitutional crisis of Islamic Civilization is the apparent difference between the Islamic political principles and the reality of the political history wherein the Muslims have to engage and carry the heavy burden. Similarly to what had materialized from the apparent differences that have resulted from the discourses of bleak political history of the Islamic Civilization starting way back from the early years, half a century after hijrah, until this day.
About the Author
Dr. Mohamed El-Moctar El-Shinqiti
Associate Professor of Islam and Political Ethics
Mohamed El-Moctar El-Shinqiti is an Associate Professor of political ethics and history of religion at Hamad Bin Khalifa University (Doha, Qatar). He got his Ph.D. in history of religion from Texas Tech University (USA). His academic interests include philosophy of religion, political philosophy, religious reformation, and religious sectarianism.
Among his books in Arabic:
The Constitutional Crisis of Islamic Civilization;
Political Discords among the Prophets' Companions.
Political Fatwas: Conversations on Religion and Politics;
The Best Muslim Minds in the Twentieth Century;
A Philosopher of the Holy Qur'an: Muhammad Abd Allah Draz, His Life and Achievements.
Wounds of the Soul (a poetic collection).
And among his works in English:
"The Crusades' Impact on Sunni-Shi'a Relations (Ph.D. dissertation);
"Defensive Jihad: Islamization of the Turks and Turkification of Islam."
"A Painful Quest for God: The Pre-conversion Moment of Augustine and Al-Ghazali";
"Early American Perceptions of Muslims";
"Slaves of Allah: Early African Muslims in America."
Most of his works were translated into Turkish Language. Some were translated into French, Persian, Albanian, Bosnian, Kurdish and Tamil. As a political analyst, he is a regular contributor with Al-Jazeera TV Channel, and with its website www.aljazeera.net where he published hundreds of analytical articles.
Program
700-800PM:    Dinner and Solat
800-810PM:    Introduction by the Chairperson, Muhammad Thufail Sayuti
810-900PM:    Presentation by Dr Mohamed El-Moctar El-Shinqiti
900-10PM:      Discussion
Organized by: Islamic Renaissance Front
---